Travel hashtags for Instagram are an integral part of your social media strategy. Did you know that approximately 4.4 million blog posts are created every day by 500 million daily active users? That's a lot of competition, but how do you get your travel photos and beautiful travel reels to the attention of the right audience with the same interests?
In addition to travel hashtags, it's a good idea to use the Lift: Reels & Story Maker app to help you create unique travel content.
As travel influencers, we aim to engage with our followers and grow our audience. Never undervalue the power of a straightforward but successful Instagram hashtag approach. It helps you reach a wider audience and grows your Instagram following. It's great to understand and be familiar with Instagram's most popular hashtags, but they are also the most often used ones.
Travel Hashtags For Instagram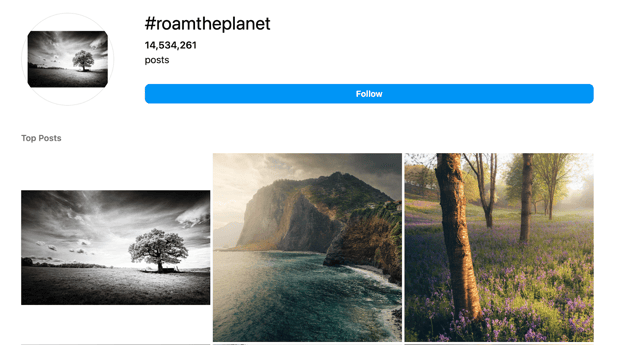 Here are some 2023 travel hashtags for Instagram for your travel content that'll go with any content, posts, stories, or reels:
#Travel
#InstaTravel
#TravelGram
#Wanderlust
#Traveling
#TravelPhotography
#Adventure
#TravelDiaries
#TravelBlogger
#WorldTraveler
#TravelLife
#GlobeTrotter
#SoloTravel
#TravelAddict
#Backpacking
#ExploreMore
#PassionPassport
#BeautifulDestinations
#NeverStopExploring
#RoamThePlanet
#TravelTheWorld
#StayAndWander
#LifeOfAdventure
#NomadLife
#GetLost
#DiscoverEarth
#GoExplore
#LoveToTravel
#SeeTheWorld
#TravelDudes
Travel

Hashtags For Instagram Reels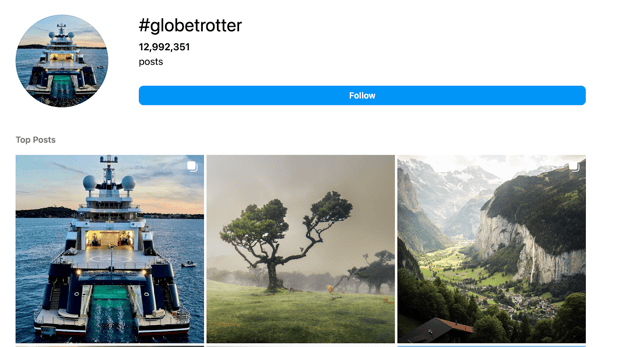 Here are the top 30 travel reels hashtags that you can use for travel-related IG reels in 2023:
#TravelReels2023
#Wanderlust
#Travelgram
#TravelDiaries
#AdventureAwaits
#SeeTheWorld
#TravelWithMe
#GlobeTrotter
#PassportLife
#RoamThePlanet
#ReelsTravel
#DiscoverEarth
#TravelJunkie
#MyTinyAtlas
#TravelInspiration
#BucketListTravel
#TravelAndExplore
#TravelLovers
#Jetsetter
#Travelogue
#TravelMoments
#Wanderer
#RoadtripReels
#DestinationDiscoveries
#InstaTravel
#AdventureSeeker
#ExploringTheGlobe
#TravelingThroughReels
#WorldExplorer
#TravelStory
Always use relevant travel reel hashtags to the content when posting. Make sure these hashtags align with your brand and audience. Happy posting!

Travel Photography Hashtags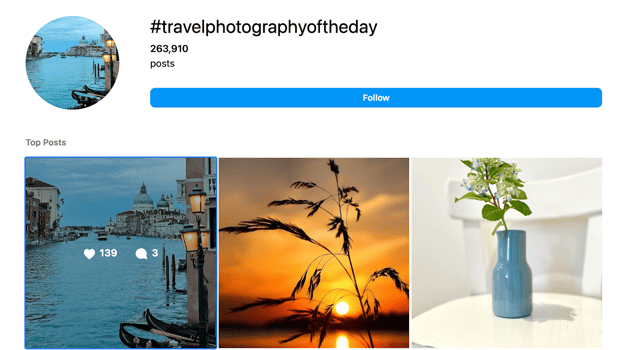 Are you a photographer? Try some of these best ideas for travel photography hashtags for 2023:
#TravelPhotography
#TravelPhotographyOfTheDay
#Wanderlust
#WorldExplorer
#BeautifulDestinations
#PassionPassport
#RoamThePlanet
#TravelGram
#VisualsOfEarth
#AdventureAwaits
#TravelAwesome
#NaturePhotography
#DiscoverEarth
#Travelholic
#AdventureVisuals
#TravelDairies
#ExploreToCreate
#Lensbible
#InstaTravel
#EarthFocus
#OurPlanetDaily
#TravelCommunity
#TheGlobeWanderer
#LonelyPlanet
#TravelMore
#JustGoShoot
#LifeOfAdventure
#FromWhereIDrone (specific for drone photography)
#StayAndWander
#Global_hotshotz
#Worldcaptures
The effectiveness of travel hashtags may vary depending on such factors as the time of day, day of the week, and the specific audience you are trying to reach. Consider adding location-specific hashtags to target a more specific audience. Using only trending travel hashtags might not work, in this case.

The Most Popular Trip
Hashtags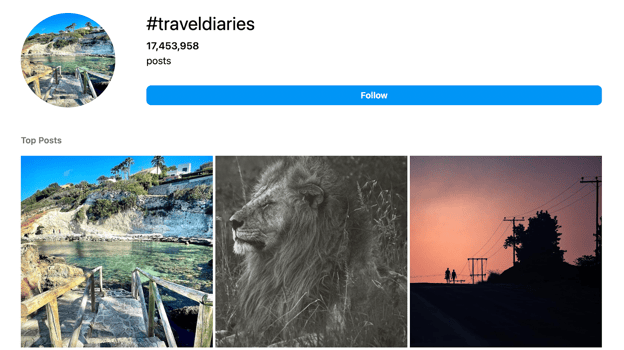 Going away on a trip? Help people find your content using popular trip hashtags:
#Trip
#TravelDiaries
#RoadTrip
#AdventureTrip
#TripOfALifetime
#WeekendGetaway
#CityTrip
#SoloTravel
#FamilyTrip
#EpicAdventure
#Backpacking
#TravelMore
#Wanderlust
#ExploreTheWorld
Why Using the Right Travelling Hashtags For Instagram and Instagram Reels is Crucial?
Travel hashtags for Instagram are your best friends for reaching more engagement and creating views on Instagram for your travel blog.
Using the best travel markers greatly facilitates sharing your travel blog around the world. Create your own procedure and adjust it, if necessary, based on the results. The right travel reels hashtags or trip hashtags can boost your views, increase comments on your work, and encourage others to follow you. Using them helps ensure that a broad audience sees your photos when you post about your travels.

Did you know that you can also include travel hashtags for Instagram in your bio? When users tap on the hashtag, they will be taken to the overview page for that hashtag. You want to include your own branded hashtag in your bio! For example, #travelblogger.
How to Boost Your Travel Blog Photos and Reels with Lift: Reels & Story Maker
Lift: Reels & Story Maker is an app that can help you create unique content. It can be handy for growing your travel blog content. It can spice up your reels and make your Instagram content eye-catching!
Lift: Story Maker works seamlessly whether you're editing a professional post on niches like travel or simply creating something beautiful for your social media account. You can animate custom fonts, overlay videos, and add AI-powered license-fee music. In addition, you can also use music from your files or iTunes and record voiceovers.
Read more: