Fitness is a popular segment on Instagram; you can easily find numerous personal trainers and fitness enthusiasts active. Therefore, it is a no-brainer to take advantage of it and grow your business with relevant and engaging fitness and gym hashtags.
With the right approach, you can grow your Instagram profile using the best fitness hashtags. You can use approximately 30 tags on your posts. It means that you can increase the engagement of your posts to a significant extent.
The Small Business Blog indicates that using even a single hashtag on your post will likely receive 29% more interactions. Meanwhile, if you use over 11 hashtags on a single post, you will probably have over 79% of interactions.
Whether a beginner or a professional editor, you can easily create juicy fitness content using the Lift: Reels & Story Maker tool. Get some of the best videos, stories, and collages to post on Instagram.
Jump to:
Fitness Hashtags for Instagram
You can quickly improve your engagement through top fitness hashtags on your Instagram account. There are many popular hashtags related to fitness that you can find. Let's go through some of these hashtags.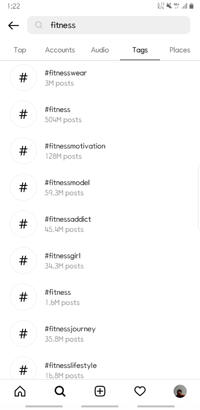 Some of the 2023 fitness hashtags are:
#fitness

#fitnessaddict

#fitnesscoach

#instafitness

#fitnesslife

#bikinifitness

#bodyfitness

#fitnessfun

#fitnesswear

#functionalfitness

#zumbafitness

#fitnessjourney

#healthandfitness

#fitnessmotivation

#fitnessmodel

#fitnessaddict

#fitnessgirl

#fitnessjourney

#mensfitness

#fitnesslifestyle

#fitnessgoals

#fitnessfood

#fitnessphysique

#fitnessfreak

#fitnessgear

#veganfitness
Fitness Motivation Hashtags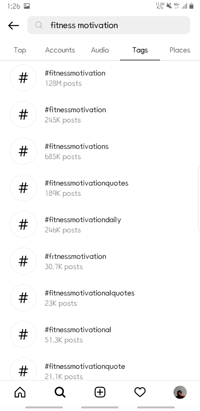 #fitnessmotivation

#fitnessmotivations

#fitnessmotivationquotes

#fitnessmotivationdaily

#fitnessmotivation

#fitnessmotivationalquotes

#fitnessmotivational

#fitnessmotivationalquote

#fitnessmotivationalhellas
Gym Hashtags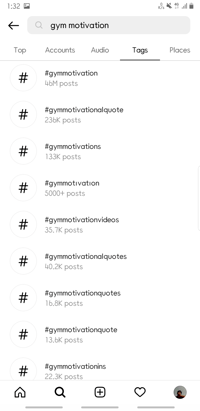 Here are some of the best gym hashtags in 2023:
#gym

#gymlife

#gymrat

#gymshark

#gymtime

#gymaddict

#gymfreak

#gymselfie

#gymwear

#gymlifestyle

#homegym

#instagym

#gym motivation

#gymotivationalquote

#gymmotivations

#gymmotivation

#gymmotivationalvideos

#gymmotivationalquotes

#gymmotivationquote
You can use these gym motivation hashtags to upload a picture or a video. This will help you significantly acquire the attention of numerous users of Instagram.
Workout Hashtags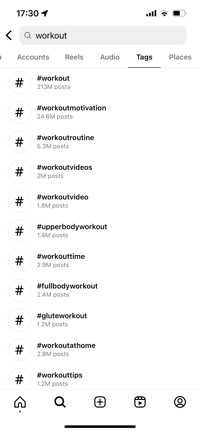 Check out the list of workout hashtags for your Instagram:
#workout

#homeworkout

#streetworkout

#workouttime

#absworkout

#workoutathome

#legworkout

#fullbodyworkout

#chestworkout

#bootyworkout

#armworkout

#workoutmotivations

#workoutmotivation

#workoutmotivation

#workoutmotivationforgirls

#workoutmotivationalquotes

#workoutmotivational

#workoutmotivationquote
Fitness Hashtags For Instagram Reels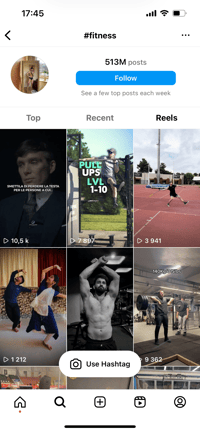 Here are some of the fitness hashtags for reels you can add to your videos:
#training
#fitnessvideo
#fitfam
#bodybuilding
#workoutroutine
#muscle
#gains
#weightgain
#glutes
#neverskiplegday
#fitnessmotivation
#fit
#sport
How to Choose the Best Fitness and Gym Hashtags
To choose the best fitness and gym hashtags, there are some steps you need to consider. First, you must understand the content you create and upload on Instagram. Once you have identified what you are posting, you need to determine which hashtags will be the most suitable and relevant for your posts.
Let's suppose that you are creating a post about workout from home. In such a post, you cannot use a hashtag like #gymfitness. Instead, it would be best to use a more appropriate hashtag that truly goes with it. Otherwise, you will not get the results you want.
In this manner, you can select the right and best fitness and gym hashtags. However, it does not end here. You can also research and check out popular fitness and workout pages. You can check out all their posts and the different fitness hashtags they have in their posts. It will help you identify which hashtags should be included and involved in your posts.
How to Boost Your Fitness Blog with Lift: Reels & Story Maker
Many trainers consistently update their stories and let their followers know what they are doing. However, since it does not enable you to edit much, it limits creativity significantly.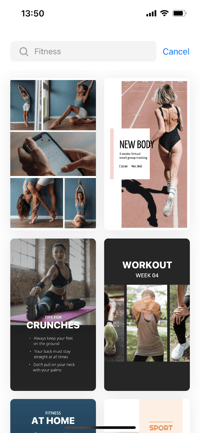 A better way to boost your fitness blog is to use Lift: Reels & Story Maker. You can use the app to match your videos and photos with the best templates easily. In addition, remove the background of any photo you want quickly. Lift: Reels & Story Maker offers a brand kit for businesses and corporate users.
Read more: