Did you know Instagram has more than 2 billion monthly active users? This is the reason why over 71 percent of businesses in the US use Instagram for marketing.
Instagram is no less than a heaven for fashion enthusiasts looking for new trends and outfit ideas and for brands and influencers promoting new looks. In fact, Instagram gives you a platform to express your sense of style and get ideas from others' postings.
Social media platforms, particularly Instagram, have made fashion a significant trend. Instagram models establish fashion trends, fashion influencers posts their looks, and regular users submit their best looks.
Instagram users love to see fashion and style posts. But how can you make the maximum number of Fashionistas see and follow the trendy looks you post every day?
Fashion hashtags can do wonders if you want to reach and engage more audiences. Social media experts advise bloggers and fashion influencers to add top hashtags for fashion, to their posts or captions to boost several followers. Using hashtags strategically is the greatest method to share this content and gain new followers.
By choosing the best hashtags for fashion, you may tenfold your audience reach and level of interaction.
Whether you're a brand or blogger, learning how to use fashion blogging hashtags for your posts can gain the traction you're looking for.
Table of contents:
Fashion Hashtags by Categories
Hashtags are the tool to employ if you want to increase the visibility of your posts, your Instagram following, and the number of likes they receive.
Starting with trending hashtags is a wonderful idea, but the best fashion hashtags for Instagram have millions of posts, making it simple for your images to get lost in the mix. While using a few widely used fashion hashtags is beneficial, you should utilize more specialized, less-used hashtags to ensure that your post stands out.
The ideal strategy to set your post apart is to use popular and less-popular hashtags; the popular ones will attract a wider audience while the smaller ones will draw more focused attention to your niche.
Many Fashionistas add a location to their fashion hashtags to make the posts more specific and hone in on local audiences.
Since the fashion world comprises many different components, we've organized hashtags by category to cover every aspect of fashion and style. All you need is to use the set of Instagram fashion hashtags in your post if it fits one of these specified categories. Additionally, you can decide which hashtags work best for the information in your post.
General Fashion Hashtags
There are several hashtags available to use for fashion-related topics. These hashtags are great to start if your post is mainly about fashion and style. You can use these fashion hashtags with stories and reels.
#ootdmagazine

#accessories

#designer

#clothes

#fashionaddict

#fashionable

#fashiondiaries

#fashionblog

#fashionpost

#fashiongram

#fashionstyle
Fashion Blogging Hashtags
Are you a blogger or writer from the fashion industry looking for fashion blogger hashtags to draw in more followers and advertise their blogs?
There is no way these best hashtags for fashion bloggers will disappoint you. These hashtags can go with all fashion blogs, whereas some may focus on a certain style. To enhance your online visibility, copy and paste these hashtags into your upcoming fashion posts and turn people into your followers.
#FashionBlogger

#Todaysoutfit

#FashionBlog

#StyleBlogger

#StyleBlog

#LifeStyleBlog

#FashionOfTheDay

#FBlogger

#InstaFashion

#ShopMyLook

#MyStyle

#FashionTrends

#IGStyle

#StyleInspiration

#OutfitInspiration

#WhatIWore
Popular Fashion Hashtags Instagram
Try these highly popular hashtags for fashion posts to show yourself as a fashion guru on your Instagram. Choose the most relevant and trending fashion hashtags, and mix them with a few smaller volume hashtags to get the desired results.
#Fashion

#Style

#OOTD

#Vintage

#InstaFashion

#Fashionista

#FashionBlogger

#Stylish

#StreetStyle

#WomensFashion

#MensFashion

#LookBook

#InstaStyle

#FashionDiaries

#WhatIWore

#StyleInspo

#LookBook

#FashionBlogger
Men's Fashion Hashtags
You're mistaken if you think fashion is just for girls. With more than 37 million posts associated with the #mensfashion hashtag, male fashion is one of the top trends. Whether you're a fashion influencer, a rising male model, or a blogger, try these men's fashion hashtags to join this bandwagon.
#MensFashion

#MenWithStyle

#MensStyle

#StreetStyleGuys

#model

#instagood

#Menswear

#StyleForGuys

#GuyFashion

#MensFashionTeam

#MaleStreetwear

#MenAboutFashion

#MensFashionairy

#MensFashionApparel

#OOTDMenStyle

#MensStylePage

#MenOOTD

#MensFashionTrends
Style Hashtags
Are you looking for a niche audience online? Using hashtags that are more specific to your post's style rather than general fashion hashtags is the right way to do that. Check out these style hashtags to cater to your fashion trend or style.
#Fashionista

#StyleInspiration

#Trendsetter

#Trendy

#Vintage

#HowToStyle

#BohoChic

#BohemianLook

#HippieGirls

#Grunge

#Minimalist

#FlowerChild

#Couture

#DressedUp

#UrbanStyle

#OOTD

#OutfitInspo

#HighFashion

#Clothes

#Neutrals

#CurrentlyWearing

#CasualStyle

#Stripes

#Comfy

#CasualOutfit

#OutfitGoals

#StyleOfTheDay
Swimwear Hashtags
Swimwear is a significant industry on Instagram. You might have seen many travel bloggers vacationing and enjoying the beach in stylish swimwear. Use particular swimsuit hashtags when uploading images of yourself in swimwear on Instagram to broaden your audience.
#Swimwear

#SwimwearFashion

#Swimsuit

#BeachWear

#Bikini

#TwoPieceSwimsuit

#BathingSuit

#BikiniStyle

#BikiniLove

#BikiniSeason

#BikiniLife

#LifeIsBetterInABikini

#BeachBabe

#SwimStyle

#LuxurySwimwear
Street Fashion Hashtags
Since most people don't dress fashionably every day, popular fashion content focuses on street style rather than fancy and expensive clothing.
You can use street fashion hashtags to share what you regularly wear because streetwear is a flexible fashion industry segment.
#StreetStyle

#SimpleFits

#Streetwear

#MinimalMovement

#UrbanWear

#Urban

#DailyLook

#UrbanFashion

#StreetFashion

#Casual

#WhatIWore

#FashionDaily

#StreetLook

#EverydayFashion

#LookOfTheDay

#OutfitDaily

#OOTDMagazine

#TodaysDetails
How to Choose the Best Fashion Hashtags for Your Instagram
Instagram permits up to 30 hashtags per post, so depending on the hashtags you use, your post may be associated with up to 30 distinct topics.
When using hashtags, it's vital to refrain from using them or spamming your posts with ineffective ones that could get you shadow-banned. Use a mix of general and niche-specific hashtags to maximize your reach, but always ensure they are pertinent to the image, video, or narrative you share.
If you use an Instagram business account for social media marketing, make the most of the included insights feature. You can monitor the engagement rate for your hashtags using Insights' statistics and take advantage of it. To access the analytics, click "View Insights" in the top-left corner of the post of your choice, then swipe up to check all the information about the post.
Bonus Tip: How to Boost your Fashion Instagram Profile with Lift: Story Maker
Do you want to unlock the power of high fashion hashtags? Switch to Lift: Story Maker app to elevate your fashion content growth rate. Creating exciting and captivating reels with this app is undeniably the best way to stand out.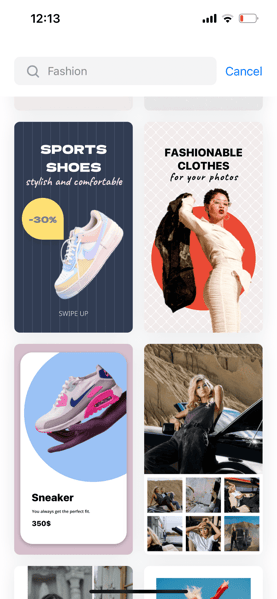 With Lift: Story Maker, you can transform your images and videos into spectacular and original TikTok and Instagram content. It may be linked to your social networking accounts and accessible through the App Store.
The app functions flawlessly, whether you're editing a business post for a specialist site in the fashion, travel, or e-commerce industries or want to make something lovely for your social media profile.
All of this app's fundamental video editing functions are arranged in a user-friendly style. You can do everything from animating Custom typefaces to adding movies on top of AI-powered music. You can also record voiceovers and add music from your folders or iTunes.
Level up your video editing game with Lift pro by making professional and engaging content. Download the app and become a pro-social media fashion influencer.
Related reading: