Instagram is no less than a heaven for fashion enthusiasts looking for new trends and outfit ideas and for brands and influencers promoting new looks. In fact, Instagram gives you a platform to express your sense of style and get ideas from others' postings.
Instagram users love to see fashion and style posts. But how can you make the maximum number of Fashionistas see and follow the trendy looks you post every day?
Fashion hashtags for Instagram can do wonders if you want to reach and engage more audiences. Social media experts advise bloggers and fashion influencers to add style or ootd hashtags to their posts or captions to boost followers. Using hashtags strategically is the greatest method to share this content and gain new followers.
By choosing the best ones for fashion, you may tenfold your audience reach and level of interaction.
Whether you're a brand or blogger, learning how to use hashtags for fashion for your posts can gain the traction you're looking for.
Jump to:
Fashion Hashtags For Instagram In 2023
Here are 30 trending fashion-related hashtags for you in 2023.
#Fashion2023

#EcoFashion

#StreetStyle2023

#OOTD2023

#FashionRevolution

#SustainableStyle

#VeganFashion

#StyleInspo

#FashionForward

#Trendsetter

#FashionInfluencer

#LookBook2023

#StyleGoals

#ChicLook

#VintageVibes

#DesignerFashion

#FashionWeek2023

#FashionLovers

#DiversityInFashion

#FashionInnovation

#ElegantStyle

#NewAgeFashion

#AIinFashion

#EcoChic

#CircularFashion

#ZeroWasteFashion

#FashionTech

#FashionForGood

#EthicalFashion

#UpcycledStyle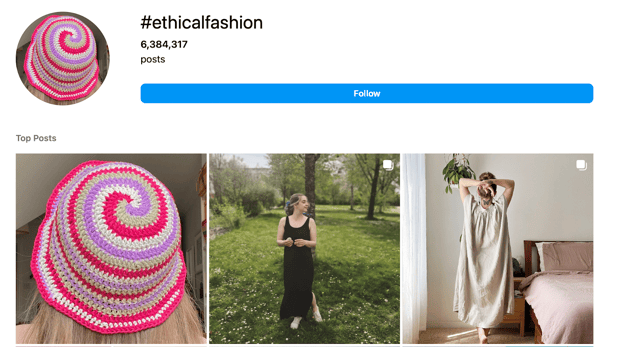 Please note that trending hashtags can change rapidly depending on current fashion trends and cultural events, so it's always a good idea to do a quick search before you post!
Style Hashtags
Check out some of the style hashtags for your Instagram content:
#Style2023

#StyleTrends

#LookOfTheDay

#StyleInspiration

#OutfitGoals

#FashionablySustainable

#StyleDiaries

#MinimalistStyle

#CapsuleWardrobe

#ChicStyle

#StreetwearStyle

#GlamStyle

#BohoChic2023

#EthicalStyle

#RetroStyle

#EffortlessChic

#PersonalStyle

#StyleIcon

#FashionStatement

#EverydayStyle

#InclusiveStyle

#StyleGuide

#UpcycledFashion

#WorkwearStyle

#SustainableOutfits

#StyleBlogger

#VeganStyle

#StyleInfluencer

#ModernVintage

#StyleRevolution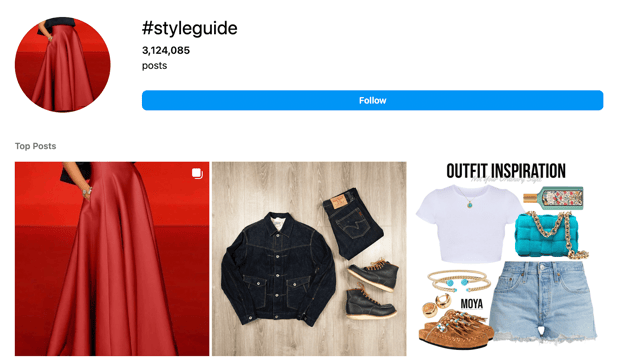 Clothing Brand Hashtags
Looking for some clothing brand hashtags to attract more attention to your brand? Choose any of these:
#FashionBrands

#LuxuryFashion

#DesignerWear

#StreetwearBrands

#SustainableBrands

#EmergingBrands

#FastFashionAlternatives

#HighStreetBrands

#EcoFriendlyBrands

#EthicalClothing

#BrandSpotlight

#VintageBrands

#LuxuryStreetwear

#AvantGardeFashion

#BespokeClothing

#BoutiqueBrands

#DesignerCollabs

#FashionStartup

#BrandLove

#SlowFashionBrands

#CapsuleCollection

#FashionLabelLove

#FashionRevolutionBrands

#LocalBrands

#FairTradeFashion

#FashionInnovation

#BrandStory

#SmallBusinessFashion

#Craftsmanship

#MadeToOrder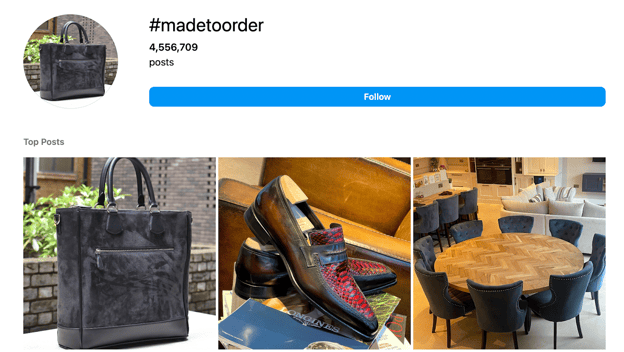 Fashion Hashtags For Instagram Reels
#FashionReels

#StyleReels

#OOTDReels

#OOTDReelsУveryday

#FashionShowReels

#StreetStyleReels

#FashionTipsReels

#BehindTheScenesReels

#FashionWeekReels

#FashionInfluencerReels

#LookbookReels

#OutfitIdeasReels

#StyleChallengeReels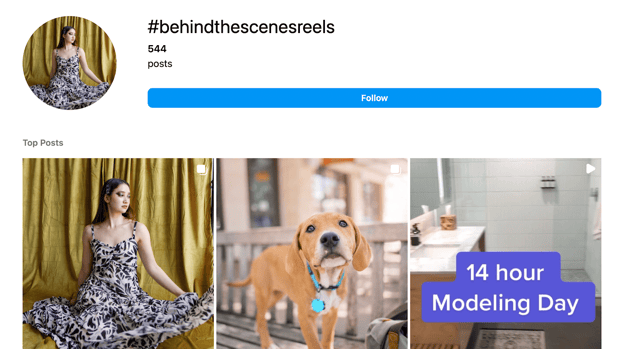 Outfit Of The Day Hashtags
Here are some of the best OOTD hashtags for 2023:
#OOTD2023

#TodayImWearing

#OutfitInspo2023

#StyleOfTheDay

#MyLookToday

#TodaysOutfit

#LookDuJour

#2023StyleInspo

#MyStyleToday

#OutfitInspiration2023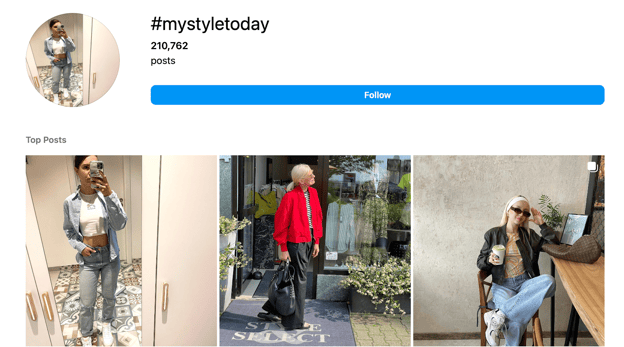 Mens Fashion Hashtags
Here some of the freshest mens fashion hashtags:
#MensFashion

#MensStyle

#MensWear

#GentlemanStyle

#DapperMen

#StreetStyleMen

#MensFashionPost

#MensOutfit

#MensFashionReview

#MensFashionGuide

#MensFashionTrends

#MensFashionInspo

#MensFashionDaily

#SuitUp

#MensLuxuryFashion

#MenWithClass

#MensStreetWear

#MensFashionTips

#MensFashionBlogger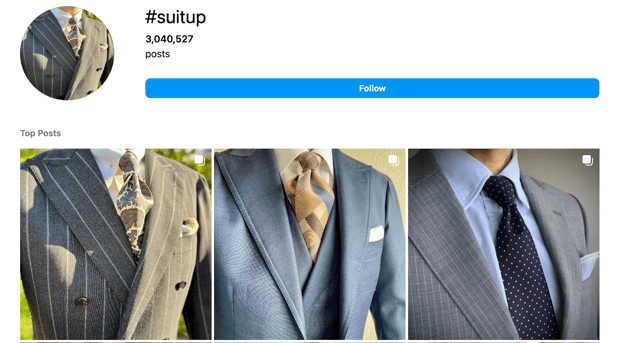 Streetwear Hashtags
We've gathered streetwear-related hashtags for you here:
#Streetwear

#StreetFashion

#UrbanStyle

#Hypebeast

#StreetStyle

#Sneakerhead

#StreetCulture

#StreetwearFashion

#StreetwearBrand

#StreetwearDaily

#StreetwearOutfit

#StreetwearBlogger

#StreetwearCommunity

#StreetwearAddicted

#StreetwearInfluencer2023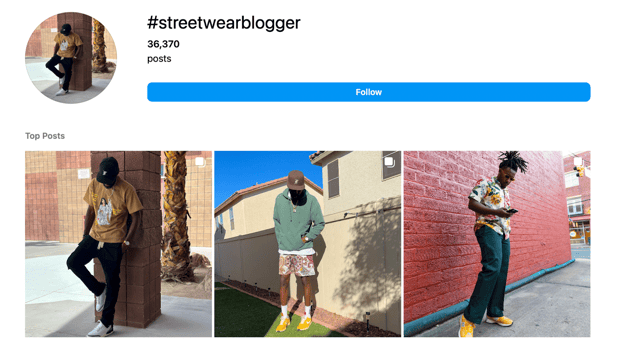 How to Choose the Best Fashion Hashtags for Your Instagram
Instagram permits up to 30 hashtags per post, so depending on the hashtags you use, your post may be associated with up to 30 distinct topics.
When using hashtags, it's vital to refrain from using them or spamming your posts with ineffective ones that could get you shadow-banned. Use a mix of general and niche-specific hashtags to maximize your reach, but always ensure they are pertinent to the image, video, or narrative you share.
If you use an Instagram business account for social media marketing, make the most of the included insights feature. You can monitor the engagement rate for your hashtags using Insights' statistics and take advantage of it. To access the analytics, click "View Insights" in the top-left corner of the post of your choice, then swipe up to check all the information about the post.
Bonus Tip: How to Boost your Fashion Instagram Profile with Lift: Reels & Story Maker
Do you want to unlock the power of fashion hashtags? Switch to Lift: Reels & Story Maker app to elevate your fashion content growth rate. Creating exciting and captivating reels with this app is undeniably the best way to stand out.
With Lift: Reels & Story Maker, you can transform your images and videos into spectacular and original TikTok and Instagram content. It may be linked to your social networking accounts and accessible through the App Store.
The app functions flawlessly, whether you're editing a business post for a specialist site in the fashion, travel, or e-commerce industries or want to make something lovely for your social media profile.
Level up your video editing game with Lift Pro
by making professional and engaging content. Download the app and become a pro-social media fashion influencer.
Related reading: