If you're active on Instagram, odds are you've received at least one unsolicited DM. These DMs could be anything from a random message to something inappropriate or offensive. Even if you're one of the fortunate few who never receive messages like this, there may still be times when you wish to delete an Instagram message that you no longer need.
With over 2 billion potential contacts, knowing how to delete Instagram Messages can be the difference between a clear or a cluttered inbox. It can also be a nifty way to clear out old messages that are no longer relevant. Whether you want to unsend a regretful message or declutter your inbox, this guide will walk you through the step-by-step process of deleting Instagram messages on your mobile device and your computer.
Looking to level up your IG game?
Try Lift: Reels & Story Maker, the creators' favorite tool for creating captivating and professional-looking reels and stories.
Jump to:
Unsending Messages Vs. Deleting Conversations
Before we dive into the details, let's clarify the distinction between unsending messages and deleting conversations on Instagram.
Unsending Messages
When you unsend a message on Instagram, it means removing a specific message you sent from the recipient's inbox. You can only unsend individual messages. Unsending a message effectively erases it from the conversation, leaving no trace behind.
Deleting Conversations
Deleting conversations involves removing an entire conversation thread from your inbox. This action only affects your account and does not impact the recipient's side. The messages will still be visible to the other person unless they also delete the conversation.
So, depending on your needs, you can unsend a message or delete an entire conversation. Now let's discuss how to do each of these tasks on the Instagram app and website.
How to Delete Messages on Instagram

on Mobile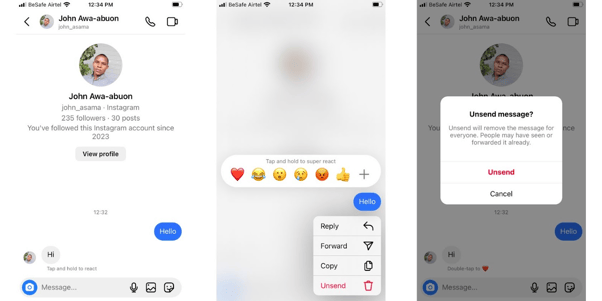 Deleting individual messages or entire conversations on Instagram is a straightforward process. Follow the steps below:
Open the Instagram app and tap the Message icon.

Open the conversation you want to delete or unsend from.

To unsend a message, long-press on the message, then tap Unsend on the ensuing menu.
To delete an entire conversation, return to the Messages page and swipe left on the chat you want to delete. Tap the Delete option and confirm your action when prompted.
The steps are similar on Android but the Delete chat option appears when you tap and hold on a chat thread.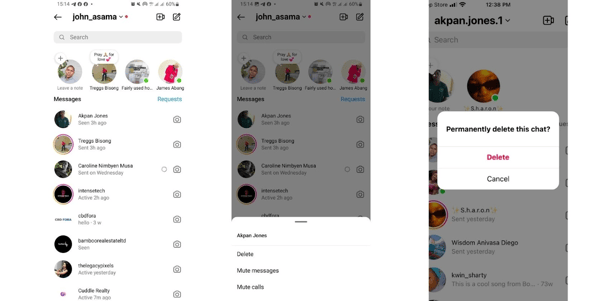 How To Delete Messages On Instagram With Your Computer
If you prefer using Instagram on your computer, you can also delete messages using the web version.
Follow these steps to delete Instagram messages on your computer:

Open your preferred web browser and visit the Instagram website.

Log in to your account if you haven't already.

Click Messages on the left tab.

Select the conversation you want to delete or unsend a message from.

Hover your cursor over the message and click the vertical ellipsis that appears around it. Click Unsend on the pop-up window.
To delete an entire conversation, click the information icon atop the chat window and then click Delete Chat.
Use Vanish Mode to Delete Your Messages Quickly
For added convenience, you can opt to use Instagram's Vanish Mode. When enabled, all messages sent in the chat are deleted automatically after the recipient reads them. To use Vanish Mode, swipe up when you're in a conversation. To disable it, simply swipe up again.
FAQ
Does Unsend A Message On Instagram Work After The Recipient Reads It?
Yes, you can unsend a message on Instagram even after the recipient reads it. Unsending a message removes it from the conversation. However, if the recipient has already viewed the message before you delete it, they may still have seen its content.
Does The Other Person Know When You Delete A Conversation On Instagram?
No, the other person will not know if you delete a conversation on Instagram. When you delete a conversation, it only affects your account and not the other person's inbox. The same rule applies to unsending messages. The recipient won't be notified that you have unsent a message from your end.
The only way the other person will know you have unsent a message is if they read the message before you unsent it. They may notice that the message is no longer in the conversation when they want to refer to it.
Can I Recover Deleted Messages On Instagram?
Unfortunately, there is no way to recover deleted messages on Instagram. A: Once you delete messages or conversations on Instagram, they're irretrievable. The deletion is permanent. Therefore, it's critical to be cautious and ensure you truly want to delete the messages before confirming the action.
Can I Unsend Messages in a Group Conversation on Instagram?
Yes, you can unsend messages in a group conversation on Instagram. The process is similar to unsending individual messages. Open the group conversation, locate the message you want to unsend, and follow the steps to unsend it. Please note that unsending a message in a group conversation will remove it for all participants in the group.
Can I Delete All My Instagram Messages at Once?
Instagram does not provide a native feature to delete all messages at once. You'll need to delete messages individually or delete entire conversations if you want to remove multiple chats. Be prepared to spend some time if you have several to delete.
How to Delete Instagram Messages

: Answered
Deleting Instagram messages is a straightforward process that can help you manage your conversations and protect your privacy. Whether you're using the Instagram app on your phone or accessing the platform on a computer, you can delete individual messages or entire conversations with just a few clicks. However, it's important to note that once you delete a message or conversation, it cannot be recovered. Ensure you consider your actions carefully before confirming the deletion.
Read more: