Instagram is one of the most popular social media platforms, with over a billion active users. With such a large user base, there are numerous unique flaws and glitches that users must deal with on a daily basis. "Black Instagram messages" is one such bug. Instagram users have recently reported seeing such an issue in their dm, and they notice a black box around Instagram messages!
Users could not access their Instagram accounts and saw black messages on the Instagram platform. Many people took to Twitter to express their confusion, warn others that updating the app would turn their Instagram messages black, and, in some cases, reveal their unsuccessful attempts to resolve the problem. People wondered whether the messages of others seemed weird too.
Table of contents:
Instagram Black Messages: What is the Cause of the Problem?
So, why do we see black Instagram messages? The broad outage is almost certainly the consequence of an Instagram app bug, but Instagram does not appear to have corrected it. As a result of the most recent upgrade, Instagram is offline, and Instagram messages are showing up black.
There is nothing wrong with your phone or Wi-Fi. Instagram might have a bug causing your Instagram messages to appear black on your account. Bugs are especially common on social media sites like Instagram, Facebook, and Twitter, which routinely encounter outages owing to their enormous user populations.
Fortunately, people have discovered a remedy to the vexing mistake, and we will explain what you can do about why your Instagram chat turned black.
4 Steps to Solve
Black Instagram Messages Issue
There might be various unique reasons for this problem with your Instagram messages.
Here are the 4 working solutions:
Turn your iPhone to dark mode
Check if Instagram is down
Find out if you updated your Instagram to the latest version
Contact Instagram Support
We will explain every solution step by step below.
#1 Turn Your iPhone to Dark Mode
So, how to fix blacked-out text on Instagram? IG users have discovered that putting your phone in dark mode will restore your ability to read your direct messages. Converting ON the dim approach of your product or Instagram application is the best and most beneficial correction. The black box around Instagram messages will be immediately clear to you as the dark mode is activated, making it easy for you to read and respond to them!
If you own an iPhone, you can follow these steps:
Go to Settings.
Press on the button Display & Brightness.
Press on the button Dark Mode.
Now, instead of seeing a white screen on your phone, your Instagram display will be black, but you can still read your messages. You can turn it back to light mode in a few hours because Instagram ought to have fixed the bug by then.
#2 Check If Instagram is Down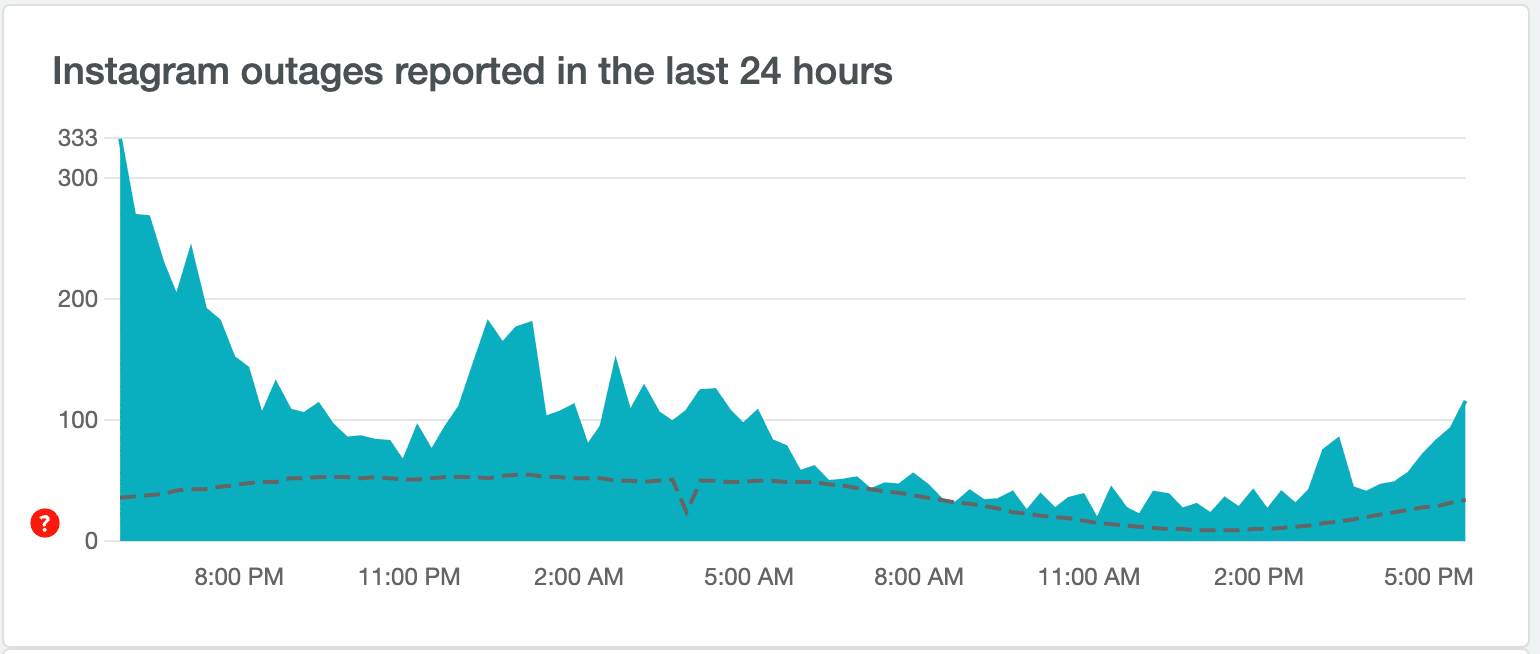 The app being down is probably the main cause of the black messages on Instagram. You can check it using the downdetector.com website or the news section of Google. On Downdetector, you will see a graph that compares the number of issue reports filed in the last 24 hours to the average volume of reports by the time of day.
Bonus: Grow Your Instagram Following with
Lift: Story Maker
If the website shows issues, then that might be why your Instagram messages are black. The most likely explanation is that the recent update, though the app's usually high user count, could also be a factor.

Now, it turns out that Instagram is down. You can not do anything else but wait… So, why not create some content for when Instagram is working properly again? Lift: Story Maker app can be handy for growing your Instagram! It can help you create unique stories with editable templates.
Choose one of the many templates and customize them with different fonts, animations, music, and stickers.
Edit your content so you can share your masterpieces with your followers when Instagram is working properly again!
#3 Update your Instagram App to the Latest Version
Another reason you see black messages on Instagram is that you did not update the app. This means that the app is not up to date which might cause a black box around Instagram messages. Maintaining app updates will allow you to take advantage of new features and experience Instagram with fewer problems and hassles.
You should go to the Google Play Store or the App Store to see if you are using the most recent version (for iPhone users). You must update it if the blue Update button is visible next to the Instagram icon. When you do, the Open button appears. It indicates that you are utilizing the most recent one.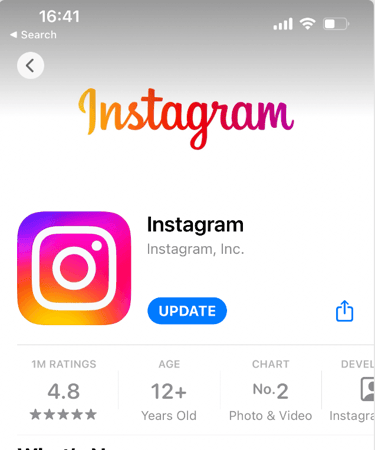 #4 Contact Instagram Support
You tried all of the above-listed options, and none of them worked. You still see black Instagram messages. The only option left is to submit your problem to Instagram and wait for them to resolve it.
If you're not sure how to report a problem to Instagram, follow the steps below:
Open the Instagram app on your phone.
Tap on your profile symbol in the bottom-right corner of the screen to access the profile area.
To open the menu, tap on a few lines symbol in the upper right corner of the screen.
Choose the first option from the pop-up menu, which is Settings.
In the settings, select the Help option above the About option.
Locate the choice Please report a problem.

Select the choice once more.
Now, describe your issue!
Wrapping Up
We have seen people dealing with black Instagram messages in their dms. We have told you all the useful steps to take in this article, and hopefully, you got rid of the black box around your messages!
Read more: