If you have been using Instagram to promote products, and services or collaborate with brands, you'd be familiar with how frustrating it was that the platform used to allow 1 link in your bio until recently. However, now you can add only up to 5 links, which may be limiting.
With the rise of 'link in bio' tools, this problem seemed to have been solved. One link in bio can contain all your affiliate links: eCommerce website, online course links, discount codes, and a lot more. In turn, you get to drive more sales and traffic to your other platforms. It works so well that 31 million Instagram users have adapted one link in bio, connecting their followers to their entire digital ecosystem.
But not all link in bio tools are the same. Some have additional features that can benefit your business more. So, how do you know which is the right option for you? In this article, we give you the 10 best link in bio tools for Instagram and how they can best help your business goals.
Table of contents:
Best Link in Bio Tools for Instagram
1. Lift.Bio: Best All-Rounder Link in Bio Tool
Lift.Bio is an easy-to-setup link in bio tool with a dynamic and interactive user interface. The page looks modern and simple even before you apply any custom design or theme.
With Lift.bio, you can also choose a custom link or domain for your brand. In addition, the app is adaptable for web and mobile viewing so that you can edit your page seamlessly on your PC or smartphone.
From the sign-up to the customization, Lift.Bio is very user-friendly. You can add as many clickable buttons as you can, with the power to customize the designs and overall theme of your page. To get started, simply visit their website and sign up.
What you get in the free version:
Basic analytics monitoring: total views, clicks, and conversion
A lot of predefined designs and themes which is fully customizable
Add as many buttons and links as you want
8-hour regular customer support
What you get in the pro version:
Even more predefined themes
Fully customizable designs
Analytics by total views, clicks, and conversion; exportable data in .csv
24/7 priority access to customer support
Removed Lift watermark
Pricing: The free version of Lift.Bio does not have any charges to use the app. The Pro version costs $9.99 per month.
Who is it good for?
Lift.Bio is perfect for any creator or brand who wants a simple-looking, easy-to-use, setup landing page with basic analytics for free. Plus, there are available social links you can easily add and edit on your page.
If you operate on many platforms and want to drive traffic without tweaking complicated features, this app is for you.
2. Milkshake: Best for the Aesthetics
Milkshake is an app-exclusive link in bio Instagram tool available for both Android and iOS users. Their pages resemble mini-website with highly customizable fun designs.
The app also has a wide selection of link additions where you can easily add all your social media platforms and websites. You can put as many links as you want.
The landing page contains 'cards' that you can swipe right or left, like browsing Instagram stories. These cards serve as pages that provide information about you, your brand, and the products and services you offer.
What you get in the free version:
Customizable domain
Access to insights and analytics
Unlimited links
What you get in the paid version:
No extra card with the Milkshake logo on it
Pricing: Milkshake's free version offers all the app's basic features. You can pay $2.99 / month to get rid of the card with its logo on it.
Who is it good for?
Milkshake is perfect for creators who don't have an established website yet. This tool can serve as a great substitute or temporary website for your brand.
They even have themes like the 'About Me' card that can be more useful to influencers who prioritize design and aesthetics. However, this layout can be overwhelming when there are too many cards.
Link.bio by Later is a link in bio tool packed with advanced linking features.
Aside from the basic features of adding links to your other platforms, it can also connect to your Instagram account and get all your current posts. From those posts, you can select an image and insert any link you need related to it.
The images you select would then be featured on your landing page—a linkin.bio feed that resembles your Instagram profile.
You can edit your linkin.bio through their app on Android or iOS, desktop, or mobile app. Some features, however, can only be accessed on the desktop version.
What you get in the free version:
Make your own linkin.bio feed through your existing Instagram posts
Link unlimited platforms and other affiliated links
Customize landing page themes
Track clicks, pageviews, revenue, and sales in your Later account
Create a mobile-friendly page
Personalized URL in your Instagram bio
Add featured media
What you get in the paid version:
Link Shopify account
Advanced analytics
Additional social sets
Pricing: The free version gives you all the app's basic features, including 1 social set and 10 posts per social profile. They also have the Starter plan, which costs $18 / month, and the Growth plan, which is $40 a month.
Who is it good for?
Linkin.bio by Later is perfect for brands who want to drive traffic to their blogs or review websites. Their grid layout resembling the Instagram feed works best to expand on their Instagram posts, entice their viewers with more information, and boost their sales on featured products.
4.

Campsite

:

Analytics in Action
Campsite is another convenient 'link in bio' website maker you can use to drive potential customers from your Instagram page to your important links.
You can use the app to create basic links, customize the whole page's theme, customize the link buttons, add social media links with logos, and more.
You can also link your Google or Instagram account to Campsite and get your posted photos. Using these photos, you can create a Campsite feed based on your Instagram feed and fill it with links you see fit.
What you get in the free version:
Unlimited buttons for links
Social media buttons
Customizable themes
What you get in the Pro version:
Analytics
Opt-in forms, Forms, Tracking Pixels
Integrate with Mailchimp and Google Sheets.
Custom domain
What you get in the Pro+ version:
View lifetime analytics (with reporting tools and filtering)
Export analytics data in .csv
Connect up to 6 profiles
Pricing: There is a free version for Campsite, with basic features such as link buttons and social media links. The Pro costs $7 / month. If you want even more improved features, you can subscribe to the Pro+ version for $24 a month.
Who is it good for?
Campsite Pro and Pro+ are perfect for individuals or businesses who want more control of their website and analytics. However, the free version only has the simple features you will also find in its competitors, so if you really want to get the best of Campsite, you may want to check out their paid versions.
5. Linktree

:

Simple and Straightforward
Linktree is one of the first and most popular link in bio tools available today. It boasts a simple design and a very easy-to-use interface.
You can edit your landing page on its desktop and mobile app. You can also customize the fonts, themes, and icons, among others, with user-friendly tools and analytics available even in the free version.
What you get in the free version:
Unlimited links
Insights and clicks for 28 days
Collect payments, tips, and donations
0% transaction fees for a limited time
What you get in the paid versions:
Customize themes
More advanced and extended analytics - clicks, views, geo, click-through rate, etc.
Offline access with a QR code
Priority customer support
0% transaction fees for a limited time
Integration with Mailchimp, Google Analytics, etc. (Pro)
Collect email and phone numbers
Remove Linktree logo (Pro)
Email & SMS integrations
Pricing: Linktree's free version has no fees. The Starter plan costs $5 / month, the Pro version for $9 / month, and the Premium version with all features unlocked for $24 / month.
Who is it good for?
Linktree works best to showcase your digital presence with its intensive features focused on featuring all your affiliate links and embedding the latest social posts. It can also collect email and phone numbers, generate tip jars, and request links.
Unfold Bio Sites is Squarespace's take on a 'link in bio' page.
This mobile-friendly Insta website maker features 14 templates with beautiful designs and animations you can choose from as you set up your landing page. Initial setup can be done in their desktop version, but all the editing is done in their mobile app.
You can connect your Squarespace account, Twitter account, or even your Linktree account to fill up your details and supply initial links automatically. Then, you can further edit your page from there.
Once you finish editing, you can share your page on your Instagram story.
What you get in the free version:
Interactive templates
Unlimited links
Embed content
Embed "Support Me" platforms (with an 8% cut)
What you get in the paid version:
All free features
Customize the templates
Embed "Support Me" platforms (with a 5% transaction fee on the Plus plan and 0% on the Pro version)
Hide Unfold logo
Pricing: The Unfold+ costs $19.99/year, and the Pro version costs $99.99/year.
Who is it good for?
If you need an all-around app for your link in bio and Instagram story kit, you will get the best of Unfold. Their paid versions best suit creators who can use the whole kit the most.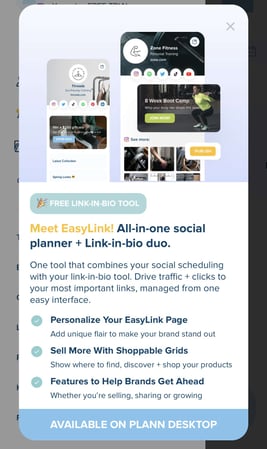 Plann is a social media management tool. It helps you plan and schedule your content in advance and focus on creating stunning content and avoid the stress of posting it not on time. You can use it both on iOS and desktop. It also comes with Easylink—a link-in-bio tool that helps you drive traffic, clicks, and sales by making everything shoppable. However, if you plan on using it, Easylink is currently available on desktop only.
It offers you an array of social media tools, including Easylink, visual planner, auto-scheduler, image editor, royalty-free stock libraries, and so much more.
Plann has a 7-day free trial and 3 paid plans you can choose from. You can pay with a monthly or annual fee. Each plan includes various features, depending on the tools you'll need.
Let's dive into what you get with each version. Don't forget each version is free (7-day trial). This way, you can try it before buying.
Plans and Pricing
Tools and users included:
Visual drag + drop social planning

Caption libraries + hashtag suggestions

Link in bio tool

For 1 brand and 1 user



Pricing: Monthly $15; Annual plan $12 per month
Tools and users included:
Visual drag + drop social planning
Team chat and approval flows
Unlimited media uploads + scheduled posts
Link in bio tool
For 2 brands and 2 users
Pricing: Monthly $30; Annual $24 per month


Tools and users included:
Visual drag + drop social planning

Team chat and approval flows

Unlimited media uploads + scheduled posts

One-click cross-posting across platforms

Link in bio tool

For 5 brands and 4 users
Pricing: Monthly $75; Annual $ 60 per month
Who is Plann good for?
It's a catch for solopreneurs, small teams, and growing brands.
8.

TapLink

:

Attract and Understand Customers
Build your Insta website using blocks with TapLink. Each block can be edited and rearranged, with link and icon and block height and width.
What you get in the free version:
Page templates
Text blocks, Q&A blocks
Unlimited links with thumbnails and animations
What you get in the paid version:
Customize font and colors of themes
Upload your own thumbnails per link
Analytics
Smart links to messaging apps and social media apps
Remove Taplink branding (Business plan)
Accept payments online (Business plan)
CRM system (Business plan)
Pricing: There are no fees for sticking with TapLink's free version. Meanwhile, the Pro version upgrade costs $3/month, and the Business version costs $6/month.
Who is it good for?
For businesses and brands with the main focus of driving sales and improving customer relationships, Taplink can be a great link in bio tool to try out. Their Business plan, especially business-oriented tools, includes a CRM system, payment channel, SSL certificate, etc.
9. Beacons

:

Best for Developers
Beacons takes customizing to another level. The page is divided into editable blocks. The app allows you to tweak the background, page colors, fonts, and block styles, among many others.
You can add links to your Beacons page and embed content from your social media accounts. You can also add music blocks, collect tips, and sell products with their monetization blocks.
What you get in the free version:
Add unlimited links
Customize blocks
Intuitive user interface
9% transaction fees for monetization facilitated by the app
What you get in the paid version:
Ability to add more pages
Custom domain (e.g., yourname.com)
No commission fees
Remove Beacons logo
Pricing: Beacons offers the Entrepreneur plan for $10 / month to unlock all the app's features.
Who is it good for?
Beacons is perfect for tech-savvy and design-oriented creators to make the best use of their variety of customization features.
10. Snipfeed: Best for Growing Creators
Snipfeed is another link in bio platform that provides cute predefined templates and simple basic features for creators sharing their links.
It also features different monetization options such as tipping, shoutouts/Q&As, live streams, and exclusive content.
On top of that, you can also import details from other link in bio platforms such as Linktree, Beacons, etc.
What you get in the free version:
Unlimited links
15 pre-made templates
Customize your page
Embed monetization tools (with a 15% fee on sales)
What you get in the paid version:
All free features
Embed monetization tools (with a 2% fee on sales)
Own domain or use your own existing domain
1 hour of coaching per month from a creator success expert
White glove support
Join the Snipfeed discord community
Pricing: The free version does not cost anything except for the commission Snipfeed gets for every sale you make through their platform. The Pro version, on the other hand, costs $29 / per month.
Who is it good for?
Snipfeed is perfect for creators who are only starting to expand their business, increase visibility, and monetize their platforms. Aside from being a link in bio tool, the Pro version provides excellent support, coaching from Snipfeed, and a discord community.
11. Lnk.Bio

:

Best for Showcasing Art and Music
Lnk.Bio is a straightforward link in bio platform. You can personalize your page and integrate different forms of links (e.g., buttons, contact forms, donations). The app has predefined themes and customizable colors as well.
What you get in the free version:
Unlimited links
Social links with thumbnails
Embed music and videos
Map for your business
What you get in the paid version:
Posting schedules
Statistics and reports
Instagram Sync
Imitate IG Grid
Newsletter (Unique plan)
Contact form (Unique plan)
Open your shop (Unique plan)
Remove Lnk.Bio logo (Unique plan)
Customize colors, fonts, wallpaper, images/banners (Unique plan)
Pricing: Lnk.Bio has a Mini subscription for $0.99 a month and a one-time payment Mini $9.99 lifetime plan. They also offer the Unique plan, which unlocks all of their more advanced features.
Who is it good for?
Lnk.Bio is a good substitute for other links in bio Instagram tools for free. With the free version, you can already embed music and videos, which other platforms do not offer. You can get much more as a content creator if you choose to avail yourself of any of their paid subscriptions.
Wrapping Up
For digital creators and businesses, audience and customer convenience are a top priority. Link in bio tools for Instagram have been proven to drive sales and traffic to its users and bring online communities closer. With the right tool, you can achieve your brand goals and grow your digital presence more effectively.
FAQ
Which Link in Bio Tool is Best?
The best link in bio tool depends on your needs as a brand or creator. Lift.Bio is a top choice if you want a fast and easy-to-use Insta website builder that rivals the more popular platforms such as Linktree.
How Can you Include More than One Link in your Instagram Bio?
Instagram only allows up to 5 links in your Instagram bio. Using link in bio tools will allow you to customize a website that could include all your affiliate links.
Read more: