Linktree is the most popular and used link in bio tool today. However, its popularity also comes with a few downsides. It's so commonly used on platforms like Instagram that it's quite a challenge to make your stuff stand out.
If people click on your Linktree, it's likely that they've already seen the style and vibe of your link in bio on someone else's profile. So, it may not be the ultimate choice if you're after customization and showcasing yourself or your business.
Thankfully, it isn't the only link in bio site you can use. There are now lots of Linktree competitors out there—all you got to do is choose which best fits your needs.
To help you out, we've done the legwork and found you 7 best Linktree alternatives worth checking out:
Linktree Alternatives

for Your Link in Bio
1. Lift Bio—Best

Linktree

Alternative Overall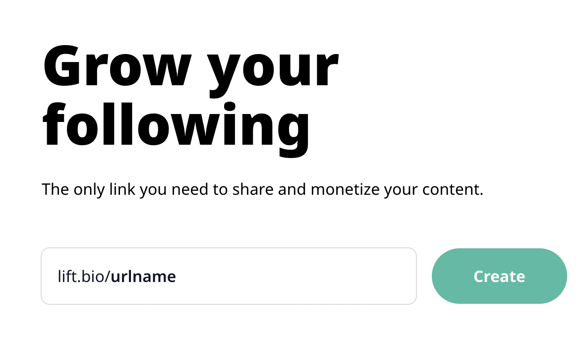 Lift.Bio is more than just a link in bio platform because it's a tool that can help you manage and boost your Instagram and other social media accounts seamlessly. This is your best bet if you prefer Linktree free alternatives with a straightforward landing page.
This tool will easily be your bestie if you want a Linktree alternative that can show everyone your best content on the forefront. The easier for them to see your best posts, the more likely your monetization will improve.
Speaking of monetization, Lift Bio Pro also allows you to check your stats so you can easily review and optimize your online presence.
A basic or free Lift.Bio subscription already allows you to see your link in bio page's total page views, total links and button clicks, CTR, and have access to customer support on regular operating hours.
If you use the Pro Version, you can also get all that and also individual link/button analytics, clicks and views geography, and filter data by period. It's easier to manage all that data too, with the Data Export tool.
Using the Pro Version is also your VIP card since you're pampered with 24/7 priority customer care.
All those could surely help you strategize how you market your content, especially if you're running a business.
The Lift.Bio app is only available on iOS devices, but you can always use its web version no matter what your device is.
Best Features:
Lots of pre-defined themes and customizable designs

Fully customizable designs

Analytics monitoring: clicks, views geography, and total page views

Unlimited use of buttons and links
Pricing:
Basic: Free Forever.

Lift.Bio Pro: $9.99/mo.
2. Linkin.bio—Most Creative Link in Bio Tool for Instagram and TikTok
Linkin.bio is perfect for users focused on the aesthetic side of things. It lets you get creative in designing your link in bio page since it looks a lot like your Instagram feed.
It's not your regular link in bio tool that only shows links to your other social media pages since your links are organized with photos. That said, it's easier to showcase your best content, products, and articles.
With Linkin.bio, you can customize your page's colors, themes, fonts, and featured banners. It also has Mailchimp Integration, which is handy if you're someone doing email marketing.
Since it's more than just a link in bio tool, you can also schedule your social media posts, connect to Google Analytics, and get hashtag suggestions. The Later app, which includes Linkin.bio is available on the Apple App Store and Google Play Store.
Best Features:
Has Shopify integration which works best for e-commerce.

Easily connect your TikTok or Instagram posts to your link in bio page.

Already integrated with Later tool to manage all your social media accounts.
Pricing:
Starter: $18/mo.

Growth: $40/mo.

Advanced: $80/mo.
3. Milkshake—Best Mobile App for a Link in Bio Page with a Website-like Design
Another popular link in bio tool used by many content creators and influencers is Milkshake. It's one of the best mobile apps like Linktree that you can download.
You might not mind it being an app-only as a mobile content creator, but if you want to fix your Milkshake page on your PC or laptop, you won't be able to do so. Thankfully, it's now available for both Android and iOS users.
Milkshake is still shaking things up with its attractive template options you can use to flaunt anything you want. Unlike Linktree, Milkshake is mainly a website where you can showcase all your online content.
But hey, you don't need to have website-building skills to do so. The Milkshake app alone lets you personalize your "cards", which represent your links so your viewers can effortlessly swipe through everything you have to offer.
Basically, if you want to use a tool that can make your link in bio page a bit more complex yet appealing, this will be your favorite.
Best Features:
Pick a card to showcase your social media pages, other websites, and more.

See your Milkshake website insights for free.

Quickly share your Milkshake website on numerous websites like IG, Twitter, LinkedIn, Twitch, WhatsApp, etc.
Pricing:
Basic Milkshake Subscription: Free!

Milkshake Lite: $1.49/mo.
4. Snipfeed—Add Sounds and Music to Your Landing Page
Source: https://snipfeed.co
Snipfeed.co is mainly business-minded content creators. It has everything that you want a link in bio tool to have but its premium version lets you do more to improve your engagement rate and sales.
The Bundles feature lets you compile certain products or content that you can sell at a price directly from your landing page. So, if you're a content creator looking for ways to sell guides or courses, this feature is very handy.
You can add music, sound, or video clips to make your page more interesting. Doing so can make your visitors more intrigued by what you have to offer. This is a feature that not many link in bio tools offer, so it's a special one.
However, Snipfeed doesn't have an app you can download for your mobile device. It's a good thing that the site is web browser friendly so you can still manage your page on the go.
Best Features:
Embed a sound or video to your Snipfeed page.

Add a mailing list to get email addresses from followers.

Schedule upcoming events or live streams.
Pricing:
Basic: Free.

Pro: $29/mo.
5. Beacons—User-Friendly Link in Bio Tool
Source: https://beacons.ai
Looking for a link in bio tool that lets you see a preview of your page while building it for uncomplicated customization? Beacons is one of the best alternatives to Linktree you can use. 6.
Many artists and online personalities trust Beacons and some of them are MTV Music-Award-Winning artist Sia and popular comedian Russell Brand.
As soon as you create a Beacons page, you'll immediately get a glimpse of what it looks like. Right after you add your links and choose your niche, you can already select the layout of your page.
The site will then show you the changes you make in real-time. Just do your thing, assess if it's good enough, and you're good to go. No need to worry about not saving your progress. Just don't forget to verify your account after creating it. If not, your page will be private after 48 hours.
Beacons doesn't have a dedicated mobile app yet, but the website runs fast even on mobile browsers like Chrome and Safari.
Best Features:
Get a free custom domain for 1 year with an Entrepreneur upgrade.

See page preview as you make edits.

Lets you accept donations from your followers.
Pricing:
Crea

tor: Free Forever.

Entrepreneur: $10/mo.
6. Lnk.Bio—Lots of Free Themes
Source: https://lnk.bio
Lnk.Bio is also one of the best link in bio tools that make it easy for you to customize your page. No complicated controls—just add a block and enter the content you'd like to add.
Of course, ready-made icons are already available for you to add as a block to your page. What makes this an exciting tool is how easy it is to change the style and theme of your link in bio. Even with a free account, you also have loads of themes you can choose from.
If you're familiar with designing in WordPress, using this tool is a breeze. If you don't, it may take a bit of time to get used to navigating the control panel.
You can also create multiple pages with just one account, and this is only a recent update. If you have Lnk.Bio profiles before that are in separate accounts, you can easily migrate these pages to one account with a migration code at no extra cost.
Overall, it's one of the free Linktree alternatives that won't make you feel like you need to upgrade to its premium version right away.
Best Features:
Find a theme perfect for your niche.

Lets you enable Lnk.bio shop to sell products and services.

Manage multiple Lnk.bio pages with one account.
Pricing:
Mini : Monthly: $0.99/mo.

Mini : One Time: $9.99.

Unique : One Time: $24.99.
7. Linkfire—Best for Promoting Artists and Musicians
Source: https://www.linkfire.com
Linkfire is one of the sites like Linktree for artists and musicians. You can connect your Linkfire page to Deezer, Spotify, and YouTube so your followers can quickly find your work online.
Using this is a surefire way for your fans or followers to listen to your music as soon as it drops. There's the pre-save feature that reminds your fans when your music is already out.
This is an action-driven campaign, so the likelihood of your fans listening on the first day of your music release is higher.
If you intend to go on tour soon after your album release, you can also connect your Linkfire to Ticketmaster so your tour dates are broadcasted with a link where they can purchase tickets.
Best Features:
Run a "pre-save" campaign before the music release date.

Incentivize subscription for better fan engagement.

Ticketmaster Integration to promote tour dates and sell tickets.
Pricing:
Starter: $9.99/mo.

Pro: $24.99/mo.

Essential: $49.99/mo.

Advanced: $99.99/mo.
Apps and Websites Similar to Linktree:

Table of Comparison
Free Version

Mobile App

Price Per Month

Custom Domain

Support

Linktree

Yes

Android & Apple

$5 - $24

Username Only

Chat, Email

Lift.Bio

Yes

Apple

$9.99

Username Only

Email

Linkin.bio

Yes

Android & Apple

$18 - $80

Username Only

Email

Milkshake

Yes

Android & Apple

$2.99

Username Only

FAQs/Live Chat

Snipfeed

Yes

None

$29

Free with Pro Version

Email

Beacons

Yes

None

$10

Free with Pro Version

Email/In-app

Lnk.Bio

Yes

None

$0.99-$24.99

$39.99/yr

Email/Chat

Linkfire

Free Trial

None

$9.99 - $99.99

Free with Essential

and Advanced Packages

Email
Read more: