More than 70% of the app users watch Instagram stories daily, according to SocialPilot's 2022 IG stats summary. That makes Instagram an effective tool for getting leads if you're trying to promote yourself or your business.
Creating a compelling Instagram story isn't an easy feat. Instagram's built-in creative features might also not cut it if you want to easily create a graphic that stands out among all the other stories your audience views.
To help you out, we listed some of the best Instagram story editing apps you can download to create stunning content within minutes.
How can the best apps for creating Instagram stories improve your digital presence? Read on to find out.
Table of Contents:
The

Best Apps for Instagram Stories
Lift: Story Maker
:
Best App to Make Instagram Stories
Overall
Lift: Story Maker gives you the imaginative platform you need to create stunning and unique Instagram stories. It has plenty of completely editable templates that let you customize fonts, animations, music, and stickers.
Aside from IG stories, this app also lets you edit photos and videos that you can post as Reels or share on other social media platforms like TikTok.
Lift: Story Maker is best for personal use as well as for professional content creation. It comes with a Brand Kit feature that lets you upload a company logo, fonts, colors, and logo animations to ensure that your posts always match your business branding. They also introduced a new feature called Lift: Bio Links—one link for all social media. This allows you to conveniently customize your links and integrate them across all your platforms.
Best Features:
Over 100 Instagram Stories templates

Instantly remove a photo's background

Pick Up: lets you match your photos with the perfect template
Pricing:
Lift: Story Maker is free to download. However, if you want to take advantage of its full features and fully edit elements on the templates available, you can upgrade your subscription to Lift. Pro for only $4.99 per week or $59.99 per year. You can also avail of their 3-day free trial to experience the Pro features firsthand and decide if this is the app for you.
Download Lift: Story Maker and make your first HQ IG story post today!
Wepik:

Best for Small Businesses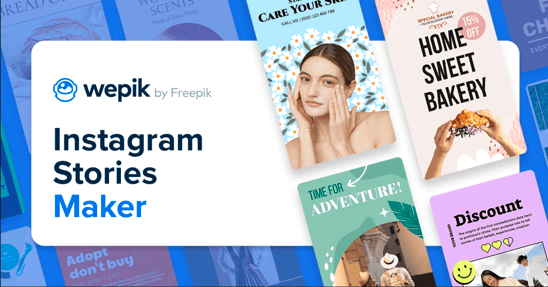 Wepik Instagram Story Maker is the ultimate tool and app for creating eye-catching and
engaging Instagram stories and posts.

What sets Wepik apart from other design tools is its intuitive interface and extensive library
of templates, graphics, and fonts. Whether you're a seasoned designer or a complete
newbie, you'll find everything you need to create professional-quality Stories that stand out
from the crowd.

With Wepik, creative designs are just the beginning. You can also benefit from their Social
Media Scheduler and maximize your time efficiently by planning ahead of time for content
programming! Or even create your brand kit, so you can keep all your brand assets stored in
one place and create your branded Stories even faster.

And let's not forget about the quality of the designs themselves. From bold and vibrant
graphics to sleek typography, Wepik has everything you need to make an impact on social
media. And if you're feeling stuck or uninspired, don't worry—the platform offers a wealth of inspiration to help spark your creativity.

Best Features:
An online editor where you can easily design any Instagram Story
Plenty of creative templates to inspire yourself
A Social Media Scheduler to plan ahead your content
The possibility to create a Brand Kit
Pricing:
The best part is that Wepik is completely free.

Mojo

:

Ideal for Online Professionals
Mojo is one of the most popular IG stories and Reels maker many social media influencers, and even online marketers use. It is considered a must-have app for making Instagram stories, with its easy-to-use features that let you create a pro-looking Insta story effortlessly.
You can also design your content for other platforms like YouTube, Snapchat, Facebook, and more.
Mojo has everything content creators would love in an Instagram story-maker app. It has professional-looking animated templates even in the free version, flexible features for different platforms, and a simple editor you can quickly master.
Best Features:
Original text styles and text effects

Royalty-free audio files and music

Upload your brand logo and colors

Create multiple-page stories
Pricing:
You can download Mojo for free if you want to test it first and see if it matches your content creation needs.
Here are the available Mojo subscriptions you can get:
Mojo Pro ($10/month): Best for professionals who want access to all templates and advanced editing features
Mojo Teams ($10/month/user): Best for teams working on marketing projects
You can also contact Mojo directly to get the Mojo Enterprise package. This is best for larger businesses that want to manage the increasing demand for quality content across different teams in their organization. The pricing depends on your preferred features and the number of users.

InVideo(Filmr) is the easiest, quickest, and most flexible way to create videos on Android, iOS, and the Web. Even if you don't have any prior video editing experience, creating a video is an easy task with InVideo's intuitive drag & drop interface. Whether you want to create an impactful video ad, a product video, or engaging videos that get you viral on social media channels, it can all be done within minutes.
InVideo(Filmr) is the only app you need for your end-to-end video creation needs. Shoot with the 4K 60 fps inbuilt camera, edit easily with a super intuitive interface, and share on all social media platforms, all from one app. In the editor, you can trim & line up your clips with a few taps, add text & a trendy background track, and add smooth transitions between clips. You can further level up with animations, voiceovers, and advanced color grading features.
Turn your ideas into engaging videos in minutes, anywhere & anytime with InVideo(Filmr).
Best Features:
SHOOT: A video editor that allows you to make a boomerang & shoot in slow or fast motion
EDIT: Simply add & trim all your clips, add your favourite music or choose one from our vast music library, add some text, and level up with effects, transitions, overlays and much more!
SHARE: share across all social media platforms from one place. Export in different resolutions and frame speeds from our video editor
Pricing: Free, Mobile Pro for $5/month or $40/year.
Inshot

:

Best for Video Editing
Photos and collages did a great job representing businesses and brands for the longest time. However, as users who prefer watching short videos continually increase, social media platforms like Instagram adapt by allowing shorter clips in stories and Reels.
If you want to create smoothly transitioned videos, InShot should be one of your best picks. It has all the basic video editing features you'd need, such as adding music, filters, voice effects, stickers, and text, among others.
You can also add video and photo layers to your main video. It's one of the Instagram story apps that is fused with a handy video editor anyone can use.
Overall, Inshot has plenty of useful video editing features that many Instagram story tools seem to lack.
Best Features:
Combine multiple clips with smooth transitions

Plenty of cinematic filters and unique video effects

Save videos in high resolution (4K, 60FPS)
Pricing:
The Inshot app is free to download, but it has in-app purchases. Unlike other Instagram story layout apps like Mojo, InShot has plenty of subscriptions or purchases you can choose from:
InShot Pro: $3.99/month or $14.99/year
Remove ads only: $3.99
One-time purchase of InShot Pro: $34.99
Filter, video effect, and transition packs: $1.99 to $3.99
If you've been in the online marketing industry for a while now, you probably are familiar with Squarespace and its great tools for content creation. Unfold is the company's entry for the best apps for Instagram stories.
Unfold is a great choice for editing photos and making stories to showcase what message you convey through them. It has beautiful templates, effects, and font collections categorized by events (wedding, birthday, etc.), usage (tutorial, promotion, etc.), and design (artist, journal, film, etc.).
It also makes your job easier with its Feed Planner, which lets you upload posts to preview and ensure you'll be sticking to your branding. You can also schedule posts with this Instagram story maker.
Best Features:
Upload custom fonts and your brand colors

Share IG stories with a stories link

Upload unlimited photos in Feed Planner

Make a bio site
Pricing:
Unfold the full features of this Instagram Story collage app with the following purchases:
Unfold+: $2.99/month or $19.99/year
Unfold Pro: $12.99/month
Filters, effects, and themes: $0.99 to $1.99
Temply

:

Straightforward Collage App for Instagram Story
If you want to create cool Insta stories with only a few taps, go for Temply.
Temply is a reel and story-maker app designed for iOS. You don't have to log in or make an account to make your first Insta post with this app. Just upload your photos, edit, and post.
This app also has a lot of templates you can use with different styles that can suit your brand, be it e-commerce, fashion, blogging, and more.
On top of that, this Instagram story video maker lets you edit photos and videos seamlessly with unique music, texts, and fun stickers.
Best Features:
Combine or merge videos, photos, and live photos

Use original Temply music or your own tracks

Huge template selection for different niches
Pricing:
You can download and use the Temply app for free. However, if you want unlimited access to all templates, you can subscribe to Temply Pro for $39.99 yearly or $9.99 monthly.
Canva

:

Your Favorite Photo Editor in Your Pocket
Canva is the go-to app for content creators who don't want to deal with the complexity of other photo editing software like Adobe Photoshop.
It's one of the most popular photo editing websites and software today that is also used as an Instagram story cover maker.
Its mobile version is very easy to use and has excellent features and pre-made designs that any creative can have fun with.
Upon signup, Canva will ask what kind of brand you manage and recommend different templates accordingly.
Best Features:
Instant photo background remover

Create, schedule, and publish posts directly with Canva

Collaborate with other Canva users
Pricing:
You can subscribe to Canva Pro to use all images and elements without watermarks and use all pro features like background removal for $12.99 monthly or $119.99 yearly. You can also buy Canva Credits to remove watermarks on certain images, photos, or elements.
InStories

:

Best for Collaborative Projects
InStories is also the best Instagram story collage app to download if you're after pro-looking stories without having to design them from scratch.
It has excellent features such as background removal in one tap, customizable template animations, and a selection of music.
InStories is also multifunctional since you can design content for other social media platforms like TikTok, Facebook, Snapchat, etc.
Best Features:
Over 100 fonts, 200 text animations, and 500 templates to choose from

Unlimited royalty-free photo and video stock library

Work with a team, organize projects, make edits, and approve changes in one account
Pricing:
Get access to over 500 pre-made templates and more features with InStories Pro for $11.99 per month or $119.99 per year.
CapCut

:

Best Instagram Story Maker

with Advanced Features
There are only a few free Instagram story apps with advanced features like CapCut. So if you're a seasoned video editor working on short-form videos on the go, this app is for you.
CapCut is free to download, and there's no pro version that you have to pay for. Simply download the app, upload your videos, and begin editing.
With extensive editing features like masking, video stabilizer, and noise reduction, among others, you get the best of a mobile video editor in this app.
Best Features:
Keyframe video animation

Chroma key to remove specific colors

Stabilize your videos to make them easier to watch
Pricing:
CapCut is completely free to use. However, if you prefer saving your work online, you can purchase CapCut cloud storage for your projects ranging from $0.99 to $54.99.
Picsart

:

Quick Photo and Video Edits
To some, Picsart is mainly a stock photo website with millions of free images. To others, it's another choice for the best Instagram story app.
Picsart is a one-stop editor app: with photo and video editing, collage maker, sticker maker, and integrated drawing tool to create art.
Play with all the fun ways to edit photos and videos, or check out other users' edits as templates you can use on your own project. Of course, you can also use the stock photos this brand is known for.
Best Features:
Clean up photos and images with the Remove Object tool

Millions of free images to use

Create your own clipart and stickers
Pricing:
Want to access all Picsart features and use unlimited stock photos? Subscribe to Picsart Gold for $4.99/weekly, $11.99 monthly, or $55.99 annually.
GoDaddy Studio: Design is a story maker Instagram app that used to be called Over. It was acquired by GoDaddy in 2020 to expand its services, from only being a popular web host provider to having apps for creating Instagram stories and other content.
GoDaddy Studio is best for businesses who want to revamp their brands and take content creation to the next level. Build your brand identity with the app's logo maker, as well as comprehensive templates for stories and posts, among many professional features.
Best Features:
Easy-to-use logo maker and the ability to draw your own templates

Integrated Link in Bio tool

Over 600 fonts, use curved text and advanced text tools
Pricing:
You can subscribe to GoDaddy Studio Pro to get access to an extensive library of templates, images, and videos you can use for your brand at $14.99/monthly or $99.99/annually.
Wrapping Up: Why Use Only The Best

Instagram Apps for Stories

?
Whether it's for business or personal use, using the best app to make Instagram stories is always a great idea to show everyone your brand and identity in its most authentic and eye-catching form.
Thanks to these Instagram story apps that are free to download and use, even small businesses can start showcasing their brands. No need to spend much to give your edits a pro look to help improve your digital presence.
Related reading: