Instagram is a favorite among marketers to promote most products and services online. Many brands prioritize Instagram over other social media platforms because of high engagement rates. Valentine's Day is around the corner, and it is the best time to plan your content for Valentine's Day.
Hashtags are one of the best hacks for Instagram growth besides creating interactive stories with Lift: Story Maker. Lift: Story Maker has numerous story templates and editing options to make your stories more engaging.
Daily hashtags on Instagram allow businesses to interact with people more and reach a wider audience. Thus, they are an important part of content planning to increase interactions on your Instagram account. Adding Valentine's Day hashtags to your posts will increase their visibility. So, more people will know about your brand, and you can attract potential customers.
Let's look at all Valentine's hashtags in 2023 to help you grow your Instagram following and engagements.
Table of Contents
Happy Valentines Day Hashtags
#Valentinesday is the most popular Valentine's day hashtag, with over 24.8 million posts on Instagram. As more young people join Instagram, the number is expected to grow considerably in 2023. Analysts believe the hashtag will have many more posts this year due to the increase in Instagram users. However, adding more Valentine's day hashtags in 2023 will be more beneficial.
Let's have a look at the best Happy Valentine's day hashtags:
#happyvalentinesday

#valentinesday

#valentines

#valentineday

#valentinegift

#valentinesdaygift

#valentines

#valentinesday2023

#whoneedsavalentine

#willyoubemyvalentine

#valentinesdaygiveaway

#bemine

#bemyvalentine

#candyhearts

#hugsandkisses

#secretadmirer

#singlesday

#Sweetheart

#thatslove

#handmade

#gifts

#kadovalentine

#birthday

#art

#heart

#giftideas

#fashion

#flowers

#chocolate

#day

#like

#instagood

#anniversary

#february

#wedding

#instagram

#photography

#hadiahvalentine

#bouquet

#valentine

#love

#flowers

#fashion

#happy

#hearts

#heart

#vday

#losangeles

#art

#instagood

#pink

#chocolate

#red

#nyc

#handmade

#february

#miami

#iloveyou

#model

#couplegoals

#fun

#bae
Galentines Day Hashtags
Who said Valentine's Day is only for lovers? Celebrating Galentine's Day is the perfect occasion to get together with your friends and enjoy a fun day. Have you decided on the hashtags to go with your Galentine Day pictures? If not, #galentine and #galentinesday are the best hashtags for Galentines. #galentinesday has over 1 million posts on Instagram.
Here are other Galentines Day hashtags for Instagram:
#happygalentinesday

#galentinesparty

#happygalentines

#galentinesweekend

#bemygalentine

#galentinesgift

#mygalentine

#galentinesdayparty

#bookstagramgalentinesday

#galentinesdaybrunch

#galentinegift

#galentinesdaygifts

#galentinesnight

#galentineparty

#galentinesdaygiveaway

#galentinesdate

#galentinesgifts

#makeupgeekgalentine

#galentinesvoxbox

#galentinesgetaway

#galentinesweek

#galentinesdaycookies

#belatedgalentinesday

#evagalentines

#galentineteachersday

#galentinesdaysale

#galentinesdayideas

#galentinesbrunch

#galentinesdaygift

#galentinesgiveaway

#giftsforher

#shopsmall

#shoplocal

#knope

#selflove

#leslieknope

#parksandrec

#womensupportingwomen

#creepyvalentinecards
Valentine's Day Hashtags For Businesses
Valentine's Day can be an excellent opportunity for businesses to market their business. You can use Valentine's day hashtags to grow your business, as hashtags are one of the most important Instagram growth hacks. Whether you are a part of Valentine industry or not, this can prove to be a wonderful business opportunity. Use Valentine's Day hashtags for businesses to bring your posts to visibility, among other similar posts.
Do not miss these Valentine's day hashtags for businesses:
#valentinesales

#valentinesday2023

#happyvalentinesday

#valentinesdaycards

#valentinesdayideas

#valentinesdayflowers

#valentinesdayspecial

#galentinesdaygiveaway

#galentinesdaygift

#galentinesdayparty
Also, remember to use #valentines and #Happyvalentinesday to ensure that you reach many people. These hashtags are suitable for personal accounts and businesses alike to boost engagements. Businesses can especially benefit from these hashtags by blending in with the community.
Trending Valentines Day Hashtags In 2023
While all hashtags bring more people to your posts and eventually help promote your brand, some become more common than others. The best thing about hashtags is that the more familiar they are, the better it is for your business. It allows you to jump on the bandwagon, which others also benefit from. Besides happy Valentine's day hashtags, trending Valentine's day hashtags are must-use Valentines hashtags for 2023.
These are some of the most trending Valentine's day hashtags for this year:
#valentinesgift

#valentinesvibes

#diyvalentines

#valentinesinspo

#valentinesmenu

#valentineswedding

#valentinesbows

#valentineseve

#valentinesmeal

#valentinesfood

#valentinesjewelry

#valentinesdayiscoming

#valentinescrafts

#valentinesart

#valentinestee

#valentinessweets

#valentinesmood

#valentinesleggings

#valentinesworkout

#valentinestag

#valentinespost

#valentinesmug

#valentinesmacaroons

#valentinesgetaway

#valentinesforkids

#valentineslingerie

#valentineslashes

#valentinesdessert

#valentinelove

#valentinesnight

#valentinesearrings

#valentinesbaking

#valentinesedition

#valentinesminisession

#valentinesmemes

#valentinesdaysucks

#valentinescandy

#valentineswreath

#valentinesbirthday

#valentineseason

#valentineswedding

#valentinesready

#valentinesdiy

#valentinesfollowtrain

#valentinesshirt

#valentineshirt

#valentinesheart

#valentinescandles

#valentinesball

#valentinesfun

#valentineseveryday

#valentinesootd

#valentinescelebration

#valentineshopping

#valentinescat

#valentinestattoo

#valentinespark

#formyvalentine

#valentinesathome

#valentinequotes

#valentinesforsale

#valentinesforhim

#valentinesforher

#valentinescosplay

#valentinesgoodies

#valentinesgay

#diyvalentine

#valentinesdayquotes

#valentinesyoga

#valentinesrecipes
Single Valentine's Day Hashtags
Have you thought of what singles do on Valentine's Day? Single Valentine's day or anti-valentines day gained immense popularity in the past few years. It is the single people's way of protesting against a day solely dedicated to lovers when they do not have one. If you are also team anti-valentines this year, these single Valentine's day hashtags are the best to go with your pictures. Add your friends and tag them in your photos to grow the hashtag and boost engagements on your accounts.
Keep reading to learn all the popular single Valentine's hashtags 2023:
#antivalentine

#antivalentines

#antivalentinesday

#antivalentinesball

#av

#singleandreadytomingle

#fakeholiday

#mancrushalways #marryme

#butreally

#bestieverhad

#shakeitoff

#onerightanswer

#pizzaforever

#whoruntheworld

#singleladies

#hijrahku

#pophorrorantivalentinesball

#pophorroruk

#bhfyp

#pophorror

#aesthetic

#pink

#quote

#quoteoftheday

#quotes
Funny Valentines Day Hashtags
If you find the usual Valentine's day hashtags 2023 cliché, do not worry! These funny Valentine's day hashtags have got you covered. You can add them to Valentine's Day, Galentine's Day, or even Anti-Valentine's day posts.
Let's quickly dive into these funny and light-hearted Valentine's day hashtags for Instagram:
#heartshapedsteak

#oohshiny

#guessedyoursizewrong

#nopressureomgsomuchpressure

#dokidsstillsaybling

#wrongcolorflowers

#whatswrongwithyellowflowers

#reallyavacuumwow

#carefulwiththeclasp

#thesechocolatestastejustlikewax

#youeatthewhitechocolates

#howdidtheseflowersgetsoexpensive

#fluffydontknockthemonthefloor

#flowersdeadalready

#cupidneedsbetteraim

#cupidalsoneedssomeclothes

#okcupidyouneedtotryagain

#igetallthewine

#galentinesdaybetterthanvalentinesday

#youretheanntomyleslie

#ilikeyouawafflelot

#areyouwearingpatchouli

#ohcoolyourewearingcologne

#yeahlupercalia

#waitstvalentinewasbeheadedwhat

#romcommarathon

#datewithmycat

#yourepurrrrfect

#myhoroscopesayswaitwhyareyouleaving

#toofullfromdinnertodothat

#idontbendthatway

#cringepoetry

#youllneverguesswhosentthese

#iloveyoualmostasmuchascofee

#iloveyoualatte

#ohcoolmyofficemategotflowers

#justgonnaavoidsocialmediatoday

#chocolatefountainaccident

#ambiancemeansdark

#areanyofthesechefssingle

#bestpeoplewatchingever

#aretheybreakingup

#weshouldhaveeatenathome

#youlldo

#rosesareredapoetsnotyou

#whaleyoubemine

#thismanycandlesseemslikeafirehazard

#allthefoodispink

#ohnotheserversings

#bathroomadjacenttable
How To Create Lovely Valentine's Day Content With Lift: Story Maker
Hashtags are a critical element in Instagram marketing. But do you know when your stories and posts perform the best?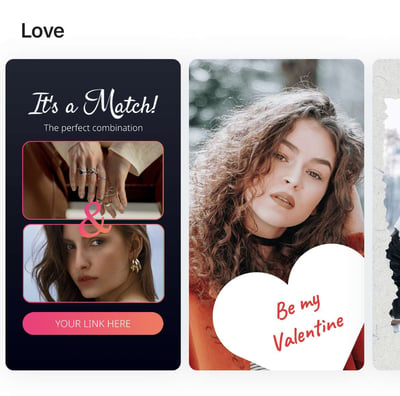 The audience looks for engaging content that catches their attention and keeps them hooked. When adding the best hashtags to your Instagram posts, it is also vital to create captivating stories. You can find many apps for Instagram stories on the App Store to help you create unique stories, but they can be time-consuming. However, you can put in little effort or time using the Lift: Story Maker. It comes with multiple prepared templates and easy-to-use features. Creating a story that can gain thousands of views takes only a few minutes with Lift: Story Maker.

Summary
Valentine's Day is around the corner, and it is time you start preparing content for the big day. It is an excellent opportunity for marketers, especially those working in clothing, food, and event management or décor businesses, to boost their business. It is also high time for bloggers to engage more people through happy Valentine's day hashtags in their reels and posts. Using these hashtags in your posts will allow you to bring more viewers and increase your following. Popular Valentine's hashtags 2023 best blend in with other content creators and increase your visibility.
Read more: