From creators, businesses, and even the average users—who doesn't love adding music to their stories and posts? In fact, according to SMPERTH, around 60% of brands use interactive elements, such as music snippets, to make their posts more engaging.
Now, with the introduction of Instagram Music, everyone can do it with just a few taps. And the feature works great—until it doesn't. These downtimes seem random, but many users have encountered their fair share of Instagram Music bugs, even in 2023.
From playback problems, missing features, and more: Here are 10 working ways on how to fix Instagram Music not working error to help you get back on track.
Don't forget to check out Lift: Reels & Story Maker for your next post! Lift has compiled a wide variety of music and sounds that you can use to bring your content ideas to life with just a few taps. Intuitive, feature-filled, and with a free version you can tinker with, Lift gives you the whole package!
10 Ways to Fix Instagram Music Not Working
If you're wondering, "Why is my Instagram Music not working?" You're not alone. Many people have had different issues on Instagram features like Instagram Music before. Because of this, different methods have been tested to fix these Instagram Music issues effectively.
Just remember that while one method might work for one user, it might not be the same for you. So safely try out these methods and see what fixes your issue.
1. Check Your Internet Connection
Sometimes, the only thing causing problems with your Instagram Music is your internet connection. A slow internet connection can result in Instagram Music search not working, or prevent music playback using Instagram Music.
A good indication of a slow internet connection is when you're unable to refresh your Instagram feed, your IG messages are black, or everything takes a long time to load. If you haven't yet, consider turning your Wi-Fi off and back on again. Additionally, you can attempt to connect to a different internet connection and see if the problem persists.
2. Check for Available Instagram App Updates
Instagram continues to roll out updates to fix minor bugs in its app. Moreover, outdated versions of Instagram are more susceptible to compatibility issues, especially when it comes to newer features like Instagram Music.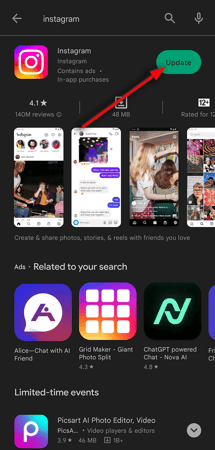 It is always recommended to update your Instagram app to the latest version as soon as it becomes available. You can check for available Instagram updates in the Google Play Store or Apple App Store.
3. Clear your App's Data and Cache
If the methods above did not work, you can try deleting the data and cache of your Instagram app by going to your device's settings.
Follow these steps for Android devices:
To get started, go to your device's Settings.
Next, navigate to Apps or Application Manager.
Find and select Instagram from the list of installed apps.

After that, select Storage.

Then, choose if you would like to clear the app's data or cache. Note, though, that clearing the app's data means that you're deleting every piece of information saved within the app, including usernames and passwords.



By deleting the data and cache, you can give your app a fresh start, potentially fixing any corrupt files or other errors. After clearing the app's data, check if Instagram Music is now working properly.
4. Reinstall the Instagram App
If your Instagram app is already updated to the latest version, but you are still encountering issues with Instagram Music, the next step you can take is to uninstall and then reinstall the Instagram app.
5. Sign out and Sign In
Refreshing your login session can also help on how to fix Instagram Music issues. To sign out of your account, follow these steps:
To sign out of your account, simply follow these steps:
First, go to your profile and tap the three horizontal lines.

Select Settings from the menu.
Next, scroll down to the bottom and click on Log Out.
After logging out, enter your credentials to log back in and check if Instagram Music is now working properly.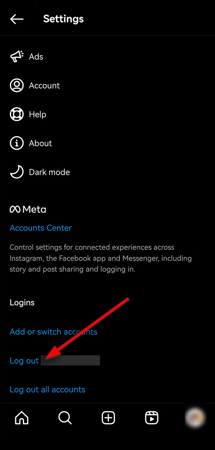 6. Switch Account Types
A couple of users have previously reported having issues with Instagram Music after switching from a personal account to a Creator or business account.
This may be attributed to Instagram's restrictions on business accounts, which limit their ability to add certain music to their Stories due to copyright concerns and the availability of sounds for commercial use.
To switch back to a personal account, here's what you can do:
From your profile, head to Settings > Account.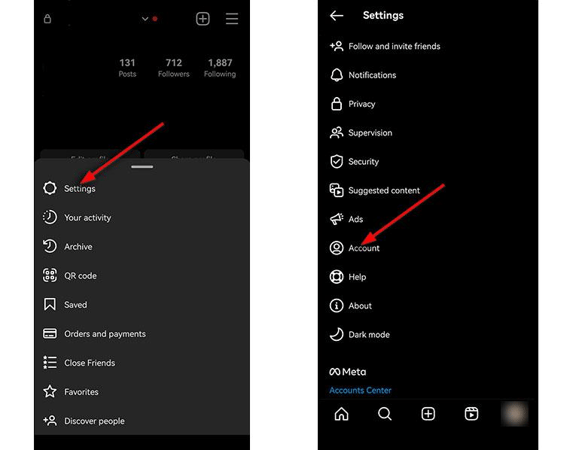 After that, scroll down and tap Switch to Personal Account.
Alternatively, you can try switching to a Creator Account on Instagram. Here's how:
From your profile, go to Settings > Account.
If you are switching from a personal account, select Switch to Professional Account and follow the instructions to complete the process.
If you are switching from a business profile, you will see the option Switch to a Creator Account.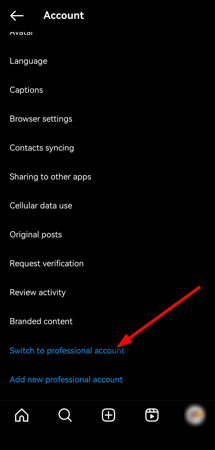 7. Use a VPN
Currently, Instagram only allows the Instagram Music sticker feature in certain countries due to licensing restrictions. If you can't see the Instagram Music sticker feature in the options on your Instagram Story, it's likely because it's not available in your region.
Instagram Music is currently available in the US, UK, Australia, New Zealand, Sweden, France, Germany, and some other countries. One way on how to fix Instagram Music not available in your region, is to connect to a VPN in any of these countries.
8. Check if Instagram is Having Issues
You can also check if Instagram is having any issues on its end, which might be why Instagram Story music is not working properly. This includes any maintenance downtime, any app-wide issues on Instagram Story itself, or other related features.
One way to keep yourself updated with any news of Instagram issues or downtime is by going to their social media accounts and checking for any announcements.
If many people are encountering the same issue, it usually becomes a trending topic on social media platforms like Twitter. You can also check Downdetector and search for Instagram to see if there are any current issues within the app.
In such cases, Instagram usually issues an announcement, and all you can do is wait until they fix the issue on their end.
9. Manually Upload Your Music
If Instagram Music issues persist, you can convert your song into a video file that you can share on Instagram. Note that this is not a direct fix if music is not working on Instagram Story, but it will allow you to still post a Story with music of your choice.
However, please be aware that manually uploading your own music may expose your post to copyright claims. If Instagram detects copyrighted material, they may mute the audio in your Story.
10. Report Your Problem to the Instagram Help Center
Reporting your issue to the Instagram Help Center would probably be the last resort you will take to solve Instagram Story music not working. Check out the Instagram Help Center for FAQs that may help you with your issue.
However, if you can't find any troubleshooting methods on how to fix Instagram Music, you can raise your concerns by following these steps:
First, on your profile, tap the three horizontal lines.

Select Settings > Help.

Next, tap Report a Problem. You can choose to shake your phone anywhere in the app to be redirected to the report page.

Select Report Problem Without Shaking. Then, tap Include and Continue.

Write down the details of your issue. You can also upload screenshots that provide additional details about your issue. Afterward, tap Send.
After that, you will receive an update regarding your report after a few business days.
Bonus Methods:
Try to use Instagram Music on a different device to see if the problem you're encountering is an isolated issue on your phone.
You can also try to use the feature with another account to see if the issue exists on your account. In this case, you can try switching account types or contacting the Instagram Support representatives to help you resolve this problem.
How to Add Music to Instagram Using Lift: Reels & Story Maker
Lift: Reels & Story Maker makes a good alternative to editing Stories and Reels directly from Instagram. It's especially helpful to create content even when Instagram Music is not working, so you still have access to your edits even if Instagram goes under maintenance or if the Story or Reel feature is not working.
Adding music to Instagram using Lift is a simple process that only requires a few steps. Moreover, Lift offers a diverse range of royalty-free songs to choose from, allowing you to align the music with the desired tone and atmosphere of your Reels or Stories.
To add music to Instagram using Lift: Reels & Story Maker, simply follow the steps below:
Install and open Lift: Reels & Story Maker on your phone to get started.
On the Templates tab, tap Create from scratch. Then, choose Reel or Story to open a new project.


Next, go to Music to check out different songs you can add to your post. Lift categorizes the sounds according to genre and mood to make it easier to find appropriate songs for your content.



Once you have chosen your sound, tap Add.

Wrap Up
Any user can encounter issues while using Instagram Music, whether it's loading issues or unavailability of the feature itself, among other problems. With the help of our comprehensive guide, you don't have to spend hours trying to find a working solution on how to fix Instagram music not working in 2023.
Remember to always keep your Instagram app and operating system updated to minimize the chances of new app features not functioning properly. You can also try quick fixes like restarting your app or clearing its cache or data, among other troubleshooting methods.
Sometimes, the issue may be on Instagram's end, and in such cases, you just have to wait until the problem is resolved by their team.
Read more: