In August 2016, Instagram shared a blog titled "Introducing Instagram Stories," which made Instagram users super-happy. As the update rolled out, users realized that their stories had to fit a particular Instagram story size for the viewers to ensure aesthetics, which was made easier through story-making applications such as Lift.
application

for quick and fun stories.
Also, compared to finding out who viewed your Instagram post, stories make it easy to pinpoint the people visiting your profile regularly.
Instagram story Inspect, ratio, and reel dimensions play an important role in reaching your audience and encouraging them to interact with your account. If the stories are out of place or don't fit the dimensions, they might not enjoy watching them.
What Are the Instagram Story Dimensions in 2023?
If you have not uploaded a story on Instagram before, the most prominent difference between posts and stories is their vertical-to-horizontal ratio. Opposed to Instagram posts, stories are vertical-friendly. It means that they must be more in length and less in width.
Instagram stories are 1080px*1920px, which means they must be 1080 pixels wide and 1920 pixels tall with a 9:16 aspect ratio.
You can upload images and videos as Instagram stories, following the same size guidelines the platform provides. A few other important considerations include:
Images must be JPG or PNG

Supported video formats are GIF, MP4, and MOV

Images should be less than 30 MB in size

Videos of up to 4 GB can be uploaded
Often users want to upload images and videos in the available size and wonder if it would work fine. Though you can upload large or small images and videos than the given Instagram story size ratio, it will compromise the quality of your Instagram story. The platform either crops or pixelates the file to fit the frame.
Also, don't forget the safe zones when creating Instagram stories.
Instagram safe zones are areas in the frame not covered by UI elements. For example, when the user views a story, the icons on the bottom allow viewers to reply to the story. If you add text, stickers, or anything else in that area, it will affect the proper visibility of your story.
Thus, always confine the important parts of your story to the safe zones. When you add any element to your story, Instagram helps you by indicating these areas through lines.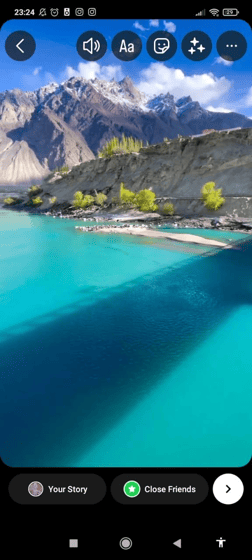 Instagram Story Dimensions

: Dos and Don'ts
Here are a few simple but important factors to consider when you want to create stories that help engage more users and convert them into followers:
Instagram Story Size Tips for High Engagement

Adequate Aspect Ratio and Size
Ensuring IG story size is essential to ensure your story is visible to your audience and looks aesthetic. While the most suitable size for Instagram stories is 1080px by 1920px, you can also try other image and video sizes in the same aspect ratio aspect of 9:16, including:
720px by 1280px

1440px by 2560px

2160px by 3840px
Always Post Vertical Content
You might wonder, "I should post this pretty picture. What if I just crop it a little?" We suggest you don't!
Adjusting a picture or video with a different aspect ratio will kill the content's beauty and harm the quality. Alternatively, change your camera setting so you do not have to worry about the story resolution.
Go to your camera settings and change the image size to 1080p or HD; the same with video settings. Then, you can take videos anytime, anywhere, without needing to modify them to the Instagram story size.
Add Engaging Elements
You will have to go the extra mile to increase engagement and interactions on your stories. Besides the basics, adding engaging elements to your Instagram story helps you interact with your viewers better. Polls and questions are the most common and most popular Instagram story elements. They also help you understand your audience's preferences.
But Instagram offers a lot more to make your stories more interesting, such as:
Prompts

Stickers

Location tags

Links

Mentions

Countdowns
Additionally, you can share reels on Instagram stories!
Incite Curiosity
Instagram stories can also help you bring more people to your profile by providing a glimpse of upcoming posts. Many big names like NASA, America's Test Kitchen, and Nike use this tact to incite curiosity among their followers by uploading stories with interesting elements like stickers, polls, questions, BTS videos, etc. Also, add the best story as your first to keep viewers hooked to go through the next ones.
Upload Premade Stories
If you find it complicated and time-consuming to edit stories on Instagram, the best choice is to upload premade stories.
Story-making applications such as Lift: Reel & and Story Maker allow you to create stories in the correct Instagram story aspect ratio before you upload them on Instagram. Use ready-made templates and numerous interactive elements to create the story you envision.
Mistakes to Avoid in Instagram Stories
Pixelated or Cropped Posts
Sometimes Instagram users upload stories consistently, but their Instagram stories do not drive results. There could be multiple reasons, and pixelated or cropped posts might also contribute. Creating stories in a 9:16 aspect ratio can help prevent pixilation, giving you high-quality content.
Redundant and Irrelevant Posts
Content creators often forget "quality over quantity" and bombard their stories with random, redundant content. Whether you are a content creator or a business, keep your Insta stories precise and concise to keep the viewers interested in your Instagram stories.
Ignoring Safe Zones
As we mentioned previously, safe zones help you create high-quality stories easily. Ignoring safe zones can impact how your story appears to the viewer and not offer the view you imagined. So, always remember the safe zones when crafting stories for your Instagram account, and avoid adding elements out of the safe zone.
Too Much Promotion
Viewers often stop watching your stories if they are overloaded with more promotional and less informational content. The best strategy is to maintain a balance of promotional and interactive content to not make it seem obvious. Users expect brands and content creators to care for their feelings instead of only selling their products or services. That is why you must avoid too much promotion and keep it balanced.
Too Many Hashtags
Content creators sometimes get so engrossed in ensuring search engine optimization that they forget the hashtags overpower the content. While you always do not have to add hashtags to stories, you can keep them minimal to convey your message to the audience without distractions. Keep the text, including the hashtags, balanced so your story gains the main attention.
How to Create a Perfect Instagram Story with Lift: Reels & Story Maker
Lift: Reels & Story Maker is one of the favorite story-making applications among Instagram users today, and you can also use it to create stories for your followers.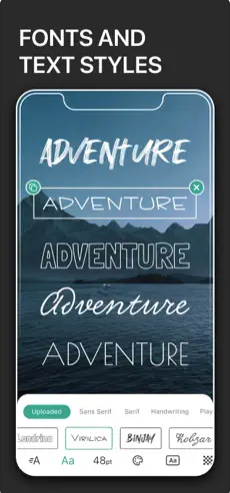 The interactive story choices make Lift: Reels & Story Maker stand out. It offers you over a hundred templates to edit according to your need, including music, fonts, animations, music, and stickers. It instantly removes backgrounds to add to any editable template that fits Instagram story dimensions, so you do not have to use another app.
The Brand Kit feature is perfect for businesses as it lets you upload fonts and colors corresponding to your brand image. You can also add your company logo, animations, and add links.
The best part is that the basic Lift: Reel & Story Maker version is absolutely free to download.
Download the application and enjoy the available template options.
Wrap Up
The potential ad audience on Instagram Stories is 996 million, making it one of the most efficient Instagram growth hacks. Instagram stories allow you to reach a wider audience without disturbing your Instagram feed grid. It is important to follow the IG story size guidelines given by Instagram to make the most out of your stories. Stories are vertical instead of square posts on the grid, and the optimal Instagram story size is 1080px*1920px. Make sure to upload high-quality, vertical content with a 9:16 aspect ratio. Additionally, consider the safe zones when creating stories on Instagram.
Read more: