Reels, Instagram's take on short-form videos, have become a popular feature to showcase your creative skills and engage with followers on the platform. In fact, out of the 2.3 billion current monthly active users on Instagram, 91% watch Instagram videos every week.
One of the most effective ways to increase your reach on Reels is to put trending songs in your videos. But how do you find the songs and sounds currently trending on Instagram?
From searching Instagram's Explore page and Reels page to looking at other creators, there are several ways to find trending songs for your Instagram Reels. You can make your Reels stand out using our methods and tips on how to find trending audio on Instagram.
This handy tool will make your creative process easier with aesthetic templates, royalty-free songs, and other elements to make eye-catching videos!
How to Find Trending Songs and Sounds for Your Instagram Reels
Making the most of Instagram's Reel feature is one of the current prevailing hacks for Instagram growth. From simple hacks to more common methods, here are all the ways on how to find trending songs on Reels:
1. Check the Explore Page
One of the most basic methods on how to find trending music on Instagram is to use the Explore page. The Explore page shows all the different content types available on Instagram relevant to your preferences, what you post about, and what's hot right now.
You can find trending reels on the Explore page and use their audio to create your next Reel. You can also save the audio for later use.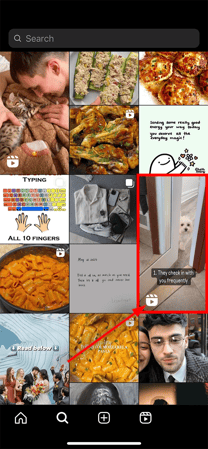 Browse the Audio Tab on the Explore Page
You can also use the Audio tab on the Explore page as a method on how to search audio on Instagram. Just search for the keywords you want to find and head to the Audio tab to check for sounds you can use.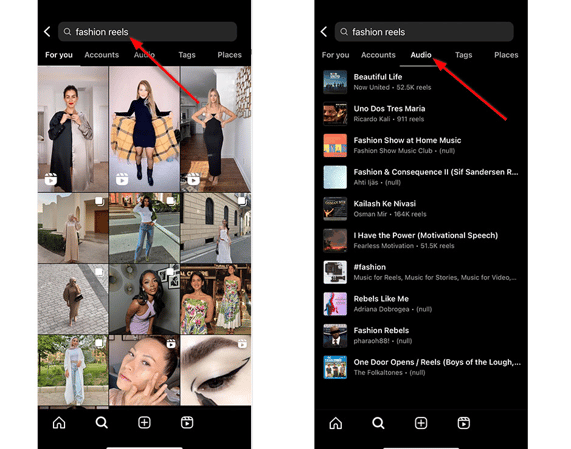 One good indicator of trending sounds are the ones that have a hundred thousand uses to a million or more. Note that a song's popularity doesn't guarantee that it's still a trending sound right now. But using a popular sound would still bring more traction to your account.
2. Browse Reels on the Reels Page
Instagram has a dedicated Reels section that shows you all the videos according to your preferences, picked up by your algorithm. You can find the Reels section on the bottom menu of the app. Using trending sounds from popular videos you find here can help you get more views on Reels.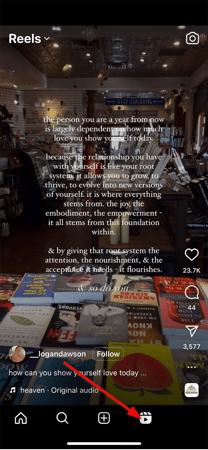 Some people spend hours just scrolling from one Reel to another. This may sound tedious, but it increases your chance of finding trending sounds you can use for your next Reel.
3. Search for the Arrow Sign
Instagram has one certain indicator that determines which Reel sounds are trending right now. For Reels viewed on mobile devices, you would see a small arrow pointing up next to the song or audio used for the Reel. When this icon is present, it means that the sound is currently trending.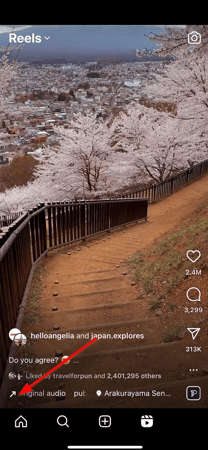 However, it would be tricky to find trending sounds this way, as Instagram currently does not have any filters that lump these trending songs and sounds together. It also doesn't have an official guide on how to search trending audio on Instagram.
4. Check Out the Trending Songs on Other Streaming Platforms
Trending songs on streaming platforms like Spotify, Apple Music, or YouTube Music are more likely to be used for remixes or sounds on Instagram Reels.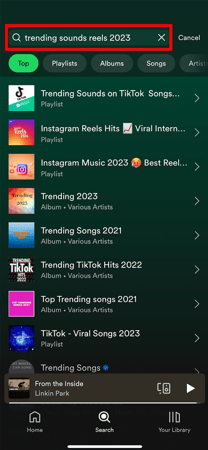 You can also check out playlists on these platforms curated to show current trending sounds for Reels.
For example, you can use keywords along these lines to check for playlists with trending sounds: "trending music for Reels 2023". Then, search for the song's title on Instagram. However, they do not come with an "Instagram guarantee" and are just created by other users.
5. Check Sound or Music Suggestions While Creating a Reel
Instagram has everything you need to know on how to create a Reel, including handy creator tools such as adding music or text to your video.
When adding sounds for your video, Instagram will suggest trending sounds that you can use to elevate your content. In the For You section of the Sounds page of Reels, you will see how many videos have been created for each sound.
Here's how to find trending songs on Reels in the For You section:
On your Instagram profile, click the Plus (+) sign on the top right side of your screen to access content creation options. Then, choose Reel.

Next, click the Music icon on the left-side creator options menu to see all the sounds you can use for your video. Here, you will spot the For You section of the Sounds page.
Browse among these sounds to select the appropriate one for your content. You can also click See More to check the full list of trending sounds Instagram curated for you.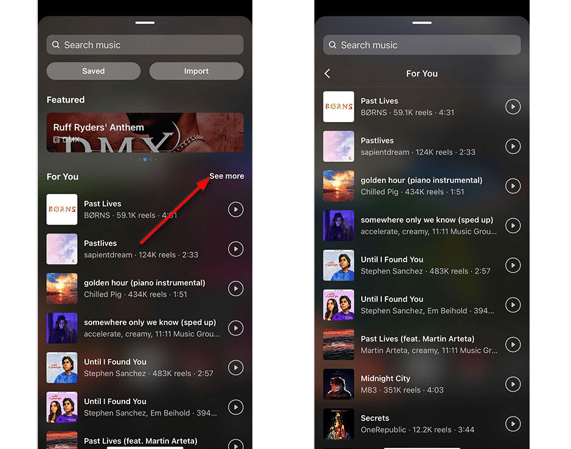 Additionally, you can browse for other trendy sounds in the Featured section of the Audio selection page.
6. Instagram Story Music
You can also use the Instagram Story feature to find trending sounds for your Reel. In addition, when creating an Instagram Story, you can now add music to accompany your photos or videos.
Instagram suggests currently popular songs in the For You section of the Music feature of their Stories. You can select your sounds in this feature and save them for your Reels. You can also install apps for creating Instagram Stories, like Lift: Reels & Story Maker, with features to help you find relevant sounds.
Here's how to find trending audio on Instagram by browsing the For You section of Music choices when creating Instagram Stories:
From your Instagram feed, swipe in the right direction to access Instagram Story creation. Alternatively, you can go to your Profile > Plus button > Story to start creating a story.


Then, take a random photo to access other editing tools.

After that, tap the Sticker icon and find Music. This will take you to the Sounds list.

Choose among the sounds available on the For You tab or tap the Browse tab to check out different genres of music that might suit your Reel. You can also search for music in this section.


Once you've chosen your sound, remember the sound name and artist so you can search for it and use it for your Reels.
Note that Instagram tends to recommend currently trending music in the For You section, but we can't be 100% sure as the platform did not explicitly announce the algorithm behind these recommended songs. This section also does not show the arrow icon beside the sound to identify if it's trending.
7. Check the Creators Account on Instagram
@Creators on Instagram is an official Instagram account that offers useful information for Instagram creators. This account produces different tips on Reel creation, such as Inspiration For Reels guide, Reels 101, and more.
Along with these useful guides, @Creators also publishes a weekly Trend Report. This report has everything—from the past week's trending filters, hashtags, music, and many more.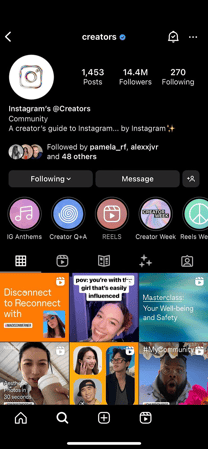 It is important to note that you'll be one week behind if you base your trending sounds on this report. Still, while these are all historical facts, it is helpful to know which direction the trends are going.
Follow @creators on Instagram to get the latest news on what's trending for Reels.
8

. Check Out Trending TikTok Sounds
TikTok's For You page can help point you to the trending sounds you can use for your next Instagram Reel.
While trending sounds on TikTok may not always be trending on Instagram, you will always benefit from checking out what sounds people are raving about on TikTok. This is because trends are more likely to spread from one platform to another.
Some trending songs on TikTok actually do make it to Instagram days or weeks after, so you can be ahead of the trend if you choose to be kept updated on both platforms.
Aside from the For You page, you can check out trending TikTok sounds by searching for "trending sounds" on the TikTok search bar. You can also filter the video results to as early as the last 24 hours to see only the recent videos with trending sounds.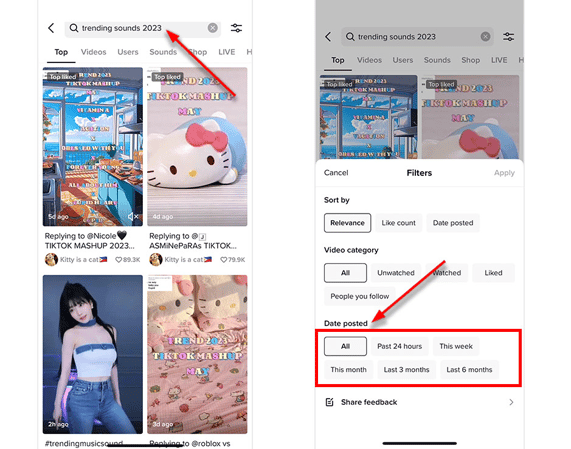 After getting the title of the trending sound on Tiktok, you can check if it exists on Instagram.
9. Search for Trending Sounds on the Hashtag Page
You can also search for trending sounds using the hashtag page on Instagram. While this doesn't always guarantee that you will find trending sounds, you will see niche-specific Reels and get inspiration to know what post and what sounds to use.
Here's how to find trending audio on Instagram by searching for hashtags from your Explore page:
To get started, search for the hashtag for your niche.

Next, select the hashtag you want to browse.



On the hashtag overview, head to the Reels tab.

Browse through the posts on these hashtags and take note of sounds that are used multiple times or sounds that are used in famous videos.
For example, If you are a fashion creator, you can search for hashtags like #fashion and browse the Reels tab to look for trending sounds.
10. Check Out the Reels of Famous Content Creators
Famous content creators tend to follow the trend or make one. It's always good practice to check out creators in a similar niche to yours and see which Reel sounds are working for them.
Viewing other creators' posts can also give you ideas and Reels inspiration. For example, beauty creator accounts like Kylie Jenner and Kim Kardashian are still relevant sources of trending sounds on Instagram and TikTok.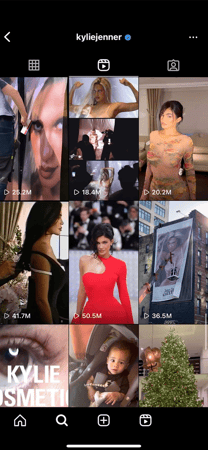 How to Find Trending Songs For Reels Using Lift: Reels & Story Maker
Lift: Reels & Story Maker has tons of royalty-free sounds that you can use for your Instagram Reels.
To find trending songs for Reels using Lift: Reels & Story Maker, simply follow the steps below:
First, install and open Lift: Reels & Story Maker.
Next, on the Templates tab of the app, tap Create from scratch. Then, choose Reel to open a new Reels project.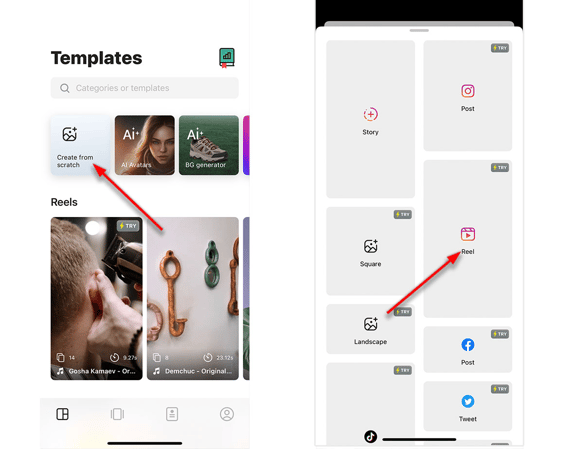 Navigate to Music to get access to different trendy music available in the app. Then, choose the sound you want to add by tapping on the sound and selecting Add.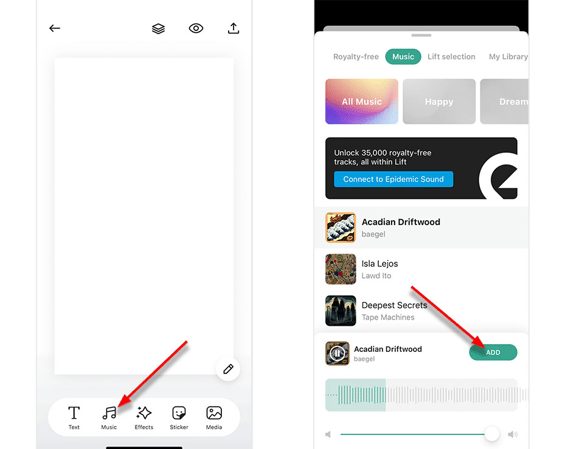 Lift conveniently categorizes sounds based on the mood you want to set in your Reel. You can choose between royalty-free music and Lift Selections to get your music. Once you save your created Reel, you will be redirected to Instagram to input your chosen sound directly from the app.
FAQs
Why Can't I See Trending Audio On Instagram?
Trending audio on Instagram usually has a symbol of an arrow pointing upwards beside it. If you can't see trending audio on Instagram, your app might not be updated. Otherwise, it might not be available in your region or country.
Why Can't I Use Trending Music On Reels?
There may be different reasons why you can't use trending music on Reels. For example, it might be that the music is not available in your region or country. Another reason is that the music you're trying to use is copyrighted or not available for commercial use. In this case, you won't be able to use the music unless you have permission from its owner.
Does Trending Audio Work On Instagram?
Yes, trending audio work on Instagram. Sometimes, these trending audio will help you increase your chances of going viral. Sounds make it easier to create more engaging content. In addition, using trending audio will help you get discovered much easier since it's more likely to get recommended to more users.
Read more: